This weekend we visited Callaway Gardens for their Festival of Lights in Pine Mountain, Georgia. We had a great time riding the tram through all of the separate areas and watching the kids' faces as they saw the beautiful displays was priceless. On Sunday morning we packed the car and decided to grab some breakfast before heading over to Smith Station, Alabama to visit a friend. Pine Mountain's breakfast options were limited but the County Kitchen was recommended for a solid breakfast.
The drive to the restaurant was pleasant as the road hugged the side of a large hill that over looked the Georgia countryside. When we arrived the restaurant's parking lot was jam packed, but we found a space across the street. The parking lot stood on the edge of a bluff and again offered up very nice views of the land. After snapping a few photos we made our way across the street and into the crowded restaurant. It was set up in a way similar to Cracker Barrells, meaning it was part country store and part restaurant.
We gave our name and we told it would be a 30 minute wait. We were not in a hurry and browsed the store. 20 minutes into our wait the kids began to get restless and we had to come up with ingenious ways to entertain them. Seating in the waiting area was severely limited so I ended up spending part of the wait on the edge of a display holding various preserves.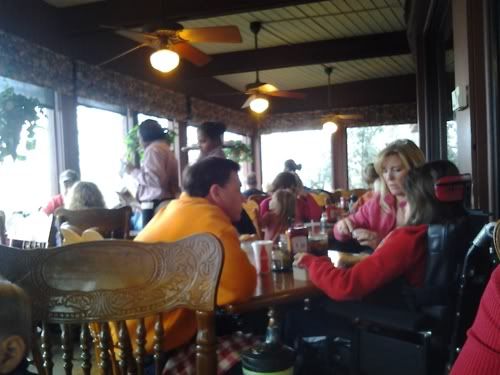 Our buzzer went off after 50 minutes and we were seated in the dining room. Windows lined the end and afforded another beautiful view of the country side. The table was dirty and there was food on the floor. Our waitress arrived and I asked for a coffee while we looked over the menu. It was priced very expensive for a breakfast menu. I decided to go with some pancakes as did Becky. We ordered grits and scrambled eggs for the kids. The waitress returned with our drinks and took our order. She forgot my coffee, but since it was busy I figured she would bring it shortly.
Miss Julia entertained herself with my car keys while we waited, and waited, and waited. After 15 minutes without seeing our server I flagged her down and asked where my coffee was. She apologized and promptly grabbed me a cup. Ten minutes later she returned with a small cup of grits and some cut up fruit for the kids. She told us the kitchen was backed up and she was sorry for the wait. We told her not to worry, since it was not her fault, and thanked her for thinking of the kids.
Twenty more minutes passed. The kids were beginning to shows signs of an imminent melt down after being very well behaved for almost two hours. Without our food in sight we decided to cut our losses and leave. I asked for the check and the waitress told me there would be no charge for the coffee. I paid for the grits and fruit and left a small tip. We headed out the door aggravated and stated to one another we should have hit the Huddle House.
Sweet Tea & Bourbon's Rating:
Atmosphere: B
Taste: N/A
Presentation: N/A
Service: F
Cleanliness: C-
Price: $$
_______________________________
Mike Bonfanti lives in Monticello , FL and writes Sweet Tea & Bourbon, a blog dedicated to restaurant reviews in and around North Florida and South Georgia . Visit Sweet Tea & Bourbon and become a subscriber to be one of the first to know about Mike's latest culinary adventure."
Mike Bonfanti is an independent blogger for
Sweet Tea & Bourbon
and does not represent the views of WCTV.