Live Game Updates: Florida State vs. Jacksonville State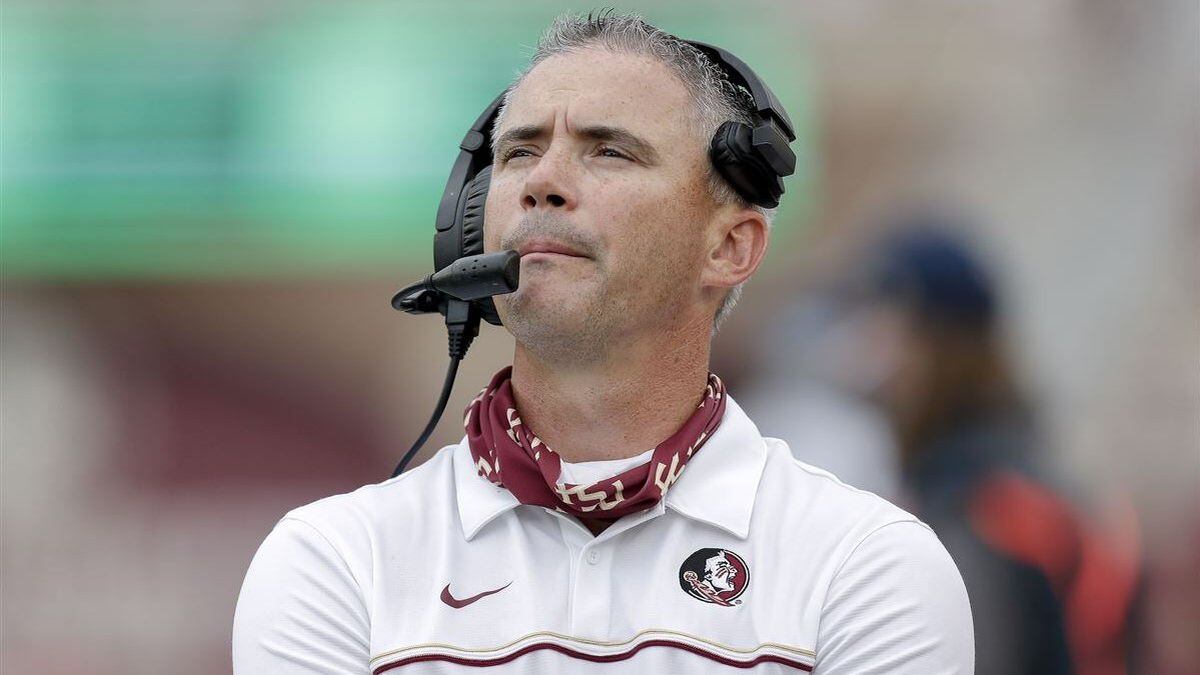 Published: Oct. 3, 2020 at 1:42 PM EDT
TALLAHASSEE, Fla. (WCTV) - Florida State is seeking its first win of the season as the Seminoles host FCS-level opponent Jacksonville State Saturday at 4 p.m. at Doak S. Campbell Stadium. The Seminoles (0-2, 0-2 ACC) are playing their second home game of the season and their lone non-conference game of the season. The Gamecocks (0-0, 0-0 OVC) are playing their first of only four games of the 2020 season, after the Ohio Valley Conference, opted to move its regular season to the spring.
JSU replaced Samford on FSU's revised 2020 schedule after the Bulldogs canceled all fall sports activities. FSU was originally scheduled to face Samford on the weekend of Sept. 19. When the Gamecocks were added to the schedule on August 20, just a week after negotiations began between the two teams, they announced the game for the date of Oct. 3, which was originally a bye week for the Seminoles. FSU and JSU have matched up twice before with the two teams splitting those prior meetings. They are also scheduled to meet in Tallahassee again next season.
The game between FSU and JSU will be televised by RSN, which means it will be on 'Regional Sports Network' that varies depending on which market you are in. You can find more here on what channel will be showing the game, as well as streaming options for 'in market' versus 'out of market' viewers. The prior link also has information on listening to the game on Saturday afternoon.
FSU head Mike Norvell will return to the sidelines Saturday for the Seminoles. He was not with the team for its 52-10 loss at Miami last week after testing positive for COVID-19. He re-joined the team this past Tuesday for practice.
Another major storyline for the Seminoles Saturday pertains to the quarterback situation. Redshirt junior James Blackman started the first two games of the season but is just 39-for-69 (56.5%) for 318 passing yards, two passing touchdowns and two interceptions, in those two outings. Blackman is listed as the starter for Saturday's game, but several others could get some snaps too. Freshman Tate Rodemaker, made his debut in the fourth quarter against Miami, going 5-for-9 (55.6%) for 47 yards and an interception. Fellow freshman Chubba Purdy, who was not available for the first two games due to an injury, could also potentially make his debut. Redshirt sophomore Jordan Travis has been used in the first two games - primarily as a runner - is hobbled and may not be available on Saturday.
Other injuries to keep an eye on include wide receiver Tamorrion Terry (knee), defensive end Joshua Kaindoh, who was injured against Georgia Tech and missed the Miami game, safety Travis Jay, who was injured against Miami and seen on crutches, and safety Hamsah Nasirildeen, who has yet to make his debut this season after being injured late in the 2019 season.
The depth chart can be found here.
Below will be a running log of the game: We'll have score updates, analysis and observations. For up-to-the-minute updates and analysis, be sure you're following me and WCTV Sports on Twitter.
FINAL: SEMINOLES 41, JACKSONVILLE STATE 24
Mike Norvell wins his first game as FSU's head coach. The Seminoles improve to 1-2 on the season.
Jordan Travis had an efficient night throwing the ball, completing 13-of-18 passes for 215 yards and a touchdown. He added 39 yards and another touchdown on the ground.
FSU had 529 yards of total offense in the game.
Recap is here, courtesy of our friends at Noles247.
Thanks for tuning in tonight. We'll be back next week!
4th Quarter, 2:18: Seminoles 41, Jacksonville State 24
Jashaun Corbin's two-yard touchdown run up the middle caps off an impressive 11-play, 88-yard scoring drive that takes 6:23 off the clock. That should just about do it.
Travis made a nice play on 3rd-and-7 earlier in the drive, extending the play by rolling out to his left and finding Wilson for a 31-yard gain to JSU 23.
Travis had 162 career passing yards in nine games over three seasons coming into this game. He has 215 yards through the air today.
FSU now has 529 yards of total offense for the game.
4th Quarter, 10:13: INTERCEPTION, Seminoles 34, Jacksonville State 24
Cooper's pass is intercepted by Asante Samuel Jr. Cooper took a shot down field but overshot Ahmad Edwards. Samuel was in perfect position and comes up with the easy pick, his third of the season. FSU takes over from its own 12.
END OF THE THIRD QUARTER: SEMINOLES 34, JACKSONVILLE STATE 24
Jacksonville State may be an FCS opponent, but after watching two dreadful offensive performances to start the season, Noles fans have to be pleased with how well Travis has come in and run the FSU offense this afternoon.
3rd Quarter, 0:16 :Seminoles 34, Jacksonville State 24
The FSU offense is in a groove right now. Five consecutive scoring drives for the Noles, all led by Travis.
Webb caps off a 10-play, 90-yard touchdown drive that takes 3:35 off the clock. The Noles posted four plays over 10 yards on the drive and now have 409 yards of total offense in the game. Fitzgerald's PAT is no good.
3rd Quarter, 5:41: Seminoles 28, Jacksonville State 24
Make it four consecutive touchdown drives that Jordan Travis has led since being entered for Tate Rodemaker in the second quarter. This one was dominated on the ground. The Seminoles went 78 yards in over four minutes on 12 plays, 11 of which were runs. This is FSU's first lead of the game.
Freshman running back Lawrence Toafili started the drive with a 24-yard run up the middle to the JSU 43.
Jashaun Corbin then took a direct snap on 3rd-and-3 and ran up the middle for five yards and a first down to extend the drive
Toafili later finished the drive with a 13-yard touchdown run on a toss to the right.
3rd Quarter: 9:57, Seminoles 21, Jacksonville State 24
The Gamecocks answer with a 21-yard field goal by Alen Karajic after driving 71 yards down the field on nine plays.
Zerrick Cooper connected with Uriah West for 28 yards on a quick swing pass and a nice run after the catch down the right sideline on 3rd-and-5 down to the FSU 31. Cooper then launched an incomplete pass to the end zone along the right sideline intended for Ahmad Edwards. Pass interference was called on Renardo Green to set up 1st-and-10 from FSU 12.
FSU eventually came up with a stop on 3rd-and-goal after Cooper scrambled out of bounds to the left to set up the field goal.
3rd Quarter: 13:58, Seminoles 21, Jacksonville State 21
The Seminoles started the second half on offense and scored immediately. FSU needed just three play and 55 seconds to go 63 yards and tie the game.
Travis started the drive by connecting with Terry on a deep pass over the middle of the field to the JSU 15 for 48 yards.
La'Damian Webb finished the drive with a 15-yard touchdown run up the middle.
HALFTIME: SEMINOLES 14, JACKSONVILLE STATE 21
It wasn't pretty early for FSU, but Mike Norvell has to be encouraged by Jordan Travis leading two scoring drives in a row to close out the half.
2nd Quarter, 0:39: Seminoles 14, Jacksonville State 21
Travis leads FSU on its second scoring drive in a row, as the Noles go 75 yards on 13 plays, eating 3:51 off the clock.
Travis started the drive with a first down completion on 3rd-and-5 to Ontaria Wilson along the right sideline to extend the drive.
Travis then picked up a first down on a keeper up the middle on fourth down to move the chains again. He followed that up with a nice play on 1st-and-10, rolling to his left and finding Jordan Young, who made a juggling catch along the sideline for a first down to the JSU 32. That was Young's first catch of the year.
Travis' next pass was incomplete, intended for his top target Tamorrion Terry on a slant to his left. Pass interference was called on Yul Gowdy, though, to give the Noles a first down to the JSU 20. Redshirt freshman offensive tackle Darius Washington was injured on the play and had to be helped off the field.
Jashaun Corbin then took a handoff for 10 yards to set up 1st-and-goal from the 10. On second down, Travis' pass was incomplete on a slant over the middle intended for his tight end Cam McDonald, but pass interference was called again, this time on Nicario Harper.
Two plays later Travis punches it in on a QB sneak up the middle to make it a one-score game. That was the first rushing touchdown of the season for FSU.
2nd Quarter, 4:30: Seminoles 7, Jacksonville State 21
The Gamecocks answer the FSU scoring drive right away. Cooper connects with Logan McVay on a deep ball over the middle for 41 yards. Cyrus Fagan covered it well but McVay made a nice play on the ball to give JSU a first down at the FSU 15. Uriah West then followed up with a tough five yard run to pick up first down at the FSU 1.
West was stopped on first and goal but Cooper then scored on a two-yard rush up the middle on the next play to extend the lead to 21-7. Cooper fumbled the ball as he crossed the goal line. The play was reviewed but the ruling on the field stood. The Gamecocks go 60 yards on six plays and 2:45.
2nd Quarter: 7:15, Seminoles 7, Jacksonville State 14
Jordan Travis enters the game for Rodemaker at quarterback and gives the Noles offense a much needed spark. Travis has been a threat with his legs for the first two games of the season. He had a couple of nice short runs off the read option and La'Damion Webb also picked up a 10-yard gain on a carry to the right side.
Travis then connected with Keyshawn Helton for a 41-yard touchdown on a deep ball over the middle. Helton blew past two Gamecocks' defensive backs and made a nice play on a slightly under thrown ball from Travis. That play was the longest of the season for FSU. The Noles go seven plays, 73 yards and eat 3:19 on the clock.
END OF THE 1ST QUARTER: SEMINOLES 0, JACKSONVILLE STATE 14
JSU got great field position, starting from its own 49-yard line but goes three-and-out. FSU starts from its own 12. The Noles were 27-point favorites in this one but trail 14-0 after one.
1st Quarter: 5:08, 14-0, Jacksonville State
The Gamecocks march right down the field after the FSU missed field goal to take an earlyu 14-0 lead. They go 68 yards on six plays and eat 2:45 minutes of clock in the process. Zerrick Cooper starts the drive with two completions for first downs. Asante Samule Jr. was then called for pass interference to set up first down from the 20-yard line. Josh Samuel then scores on a 20-yard jet sweep to the left to make it a two-score game early.
1st Quarter: 7:53, 7-0, Jacksonville State
A much better to start to the second drive for FSU. Rodemaker had a couple of nice first down completions, but then he took a bad sack on 1st-and-5. The drive ends with Ryan Fitzgerald missing a 49-yard field goal wide right.
1st Quarter: 10:54, 7-0, Jacksonville State
The Seminoles force a three-and-out on their first defensive possession.
Not a good start for Tate Rodemaker though as his pass on 3rd-and-4 is intercepted by Kolbi Fuqua and returned 13 yards for a touchdown.
1st Quarter: 15:00
Florida State has won the toss and will defer to the second half. The Noles will start on defense and we are underway from Doak Campbell Stadium.
Pregame
Buck linebacker Hamsah Nasirildeen and offensive lineman Brady Scott are not dressed for FSU.
Wide receiver Tamarrion Terry is dressed and is warming up after being limited last week vs. Miami.
Tate Rodemaker is also taking the first-team reps during pregame warmups.
FSU tight end Cam McDonald is the team captain today.