Florida leaders pay respects to Bobby Bowden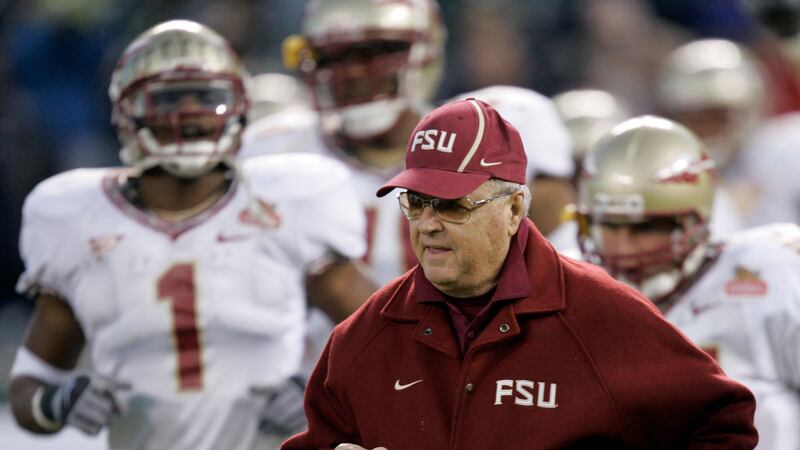 Published: Aug. 8, 2021 at 12:00 PM EDT
TALLAHASSEE, Fla. (WCTV) - Following the passing of legendary Florida State University football coach Bobby Bowden, leaders across the state of Florida are paying their respects.
In a thread of Tweets, Florida Governor Ron DeSantis said:
Coach Bobby Bowden lived a remarkable life and leaves an incomparable legacy. He created a dominating football program that produced championships and many great players. pic.twitter.com/GS9fdMOS1y

— Ron DeSantis (@GovRonDeSantis) August 8, 2021
Florida Congressman Al Lawson released the following statement:
Over the course of his long and storied life and career, Coach Bobby Bowden made an immeasurable impact, not only on the Florida State University football program and its players, but also on our community at large. A two-time National Champion and 12-time ACC Champion, Coach Bowden was a leader whose commitment to excellence extended far beyond the football field. During his many impressive years at the helm of the Seminoles football team, Coach Bowden helped shape the lives of countless young athletes who played under him, and his loyalty and dedication to his family, friends and players set an example for all those who knew him. Many coaches can coach, but only a small number, like Bobby Bowden, can guide their student-athletes beyond the sports arena.
I would like to send my condolences to his family during this difficult time. I pray they find comfort in knowing that Coach Bowden was loved by so many across our nation, and his legacy will live on through each of us.
Florida Senator and former Governor Rick Scott Tweeted:
Florida & @FloridaState have lost a legend. Ann & I are so sad to learn of Coach Bowden's passing & are praying for Ann Bowden & their family. A man of deep faith & outstanding leader, his legacy will live on in the hearts & actions of countless students, coaches & young leaders. https://t.co/svoXQPzsJQ

— Rick Scott (@SenRickScott) August 8, 2021
Florida Congressman and former Governor Charlie Crist Tweeted:
Coach Bowden was a remarkable man and legend who embodied the true spirit of a Florida State Nole! My prayers are with the Bowden family today.
Florida Chief Financial Officer Jimmy Patronis released the following statement:
While Coach Bowden will forever be a fixture in Florida history, to me, he'll always be someone that had a fondness for Panama City. When he was an assistant coach, Coach Bowden would often come up to my family's restaurant, eat and visit with area folks about local recruits in Florida and Alabama. Coach loved Panama City so much that his entire family would come over every July 4th. Coaches don't get a lot of downtime, so we were always honored that he chose to spend his time with the ones he loved in the community we called home. Over the years we would see his family grow and grow, with kids and grandkids.
I always appreciated his relationship with God and how his faith was at the heart of every decision he made. He never faltered in sharing the gospel of Christ to the young men he coached and loved dearly. Coach leaves behind a legacy that transcends sports. He is a Florida and national treasure, a kind soul with a warrior's heart, and there will never be another like him. My condolences go out to his beautiful wife, Ann and the entire Bowden family.
Florida Attorney General Ashley Moody Tweeted:
Bobby Bowden was a great coach and an even better human being. He touched so many lives and made Floridians proud—he was our own.

My heart goes out to his family, former players and fans across our state. https://t.co/q6FvGgQLBf

— AG Ashley Moody (@AGAshleyMoody) August 8, 2021
Florida Senator Gary Farmer Tweeted:
Riverboat gambler...king of the one liners...fearless coach...great recruiter & speaker. Thank you Coach Bowden for all you did for FSU & this state, for the great memories you created for my family & so many Nole fans, and for impacting so many young lives. RIP Bobby! pic.twitter.com/qEFtsfpqAQ

— Senator Gary Farmer (@FarmerForFLSen) August 8, 2021
Florida Congressman Neal Dunn Tweeted:
. @FSUFootball legend Coach Bobby Bowden was truly a unique individual w/ a tremendous love for football & his community. I'm grateful for his contribution to the Seminole Nation & the State of #FL. May his legacy live on for years to come. God bless you, Bobby & thank you! #FL02 https://t.co/atkouEqayt

— Dr. Neal Dunn (@DrNealDunnFL2) August 8, 2021
Copyright 2021 WCTV. All rights reserved.