FINAL: Rattlers 6 - Jackson State 7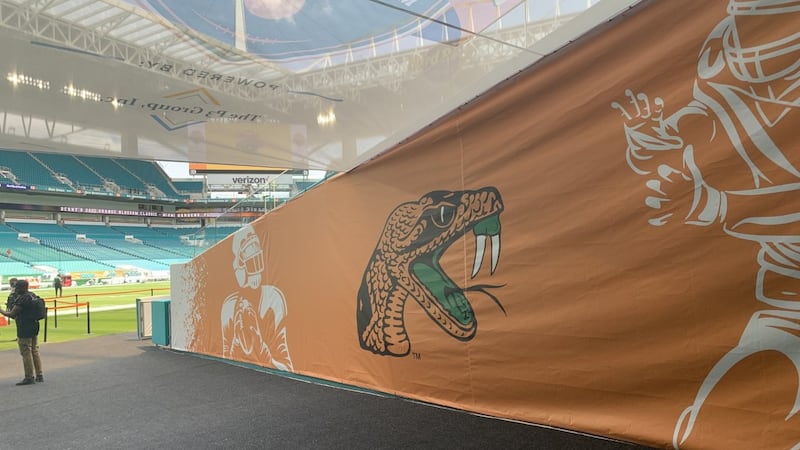 Published: Sep. 5, 2021 at 11:25 AM EDT
MIAMI GARDENS, Fla. (WCTV) - It's been 652 days since the Florida A&M Rattlers last took the football field, falling in heartbreaking fashion to Bethune-Cookman in the 2019 Florida Classic.
Since then, the Rattlers have changed conferences, moving from their long-time home the MEAC to the SWAC, and had a season canceled due to the COVID-19 pandemic.
But, the Rattlers are set to return to the field not only for the first time in 43 years in the Orange Blossom Classic, nor for the first time as a SWAC member, but in their first conference game in their new home as they take on the Jackson State Tigers.
JSU, led by former Florida State great Deion Sanders, went 4-3 in last year's pandemic-shortened season, played in the spring, but one of those games was in the form of a 2-0 win via forfeit against Alcorn State. In the Tigers' three wins that were actually contested, JSU won by an average of 43 points (53-0 vs. Edward Waters, 33-28 vs. Grambling St., 43-7 vs. Mississippi Valley State) before losing their last three games that were played and scored just 28.3 points per game in each of those loses.
The Rattlers and Tigers are taking the field for the first time since 2018, when the Tigers won 18-16, and JSU enters on a two-game win streak. JSU also leads the all-time series 10-7-2.
Below will be a running a live blog of tonight's game. We'll have score updates, analysis, stray observations and thoughts. For up-to-the-minute updates and analysis, be sure you're following myself and WCTV Sports on Twitter.
Kickoff is set for 3 p.m. on ESPN2.
FINAL: JACKSON STATE 7 - FAMU 6
The Rattlers had a chance to win it at the end, having a final drive start with 1:18 to play and the ball around their own 40 yardline, but they stalled out once they crossed midfield and have fallen to JSU for a third straight game.
Our recap is also live from this one. A lot of good to take out of it, but the job couldn't get done as the Rattlers fall in consecutive games for the first time since the 2018 season.
Thanks again for joining us tonight, but don't go anywhere! Will Desatuelle has your coverage for FSU and Notre Dame.
4th Quarter, 7:11: 7-6, Jackson State
Jackson State just put together the best drive of the second half, for either side, marching 77 yards on 11 plays and coming away empty after the FAMU run defense, which has been stingy all day long, stuffs the Tigers on a 4th and 1 from inside the red zone to keep this a one score game.
Muratovic is back on the field to lead the FAMU offense for a second straight series.
4th Quarter, 11:58: 7-6, Jackson State
We have a change at quarterback as Junior Muratovic entered in relief of McKay for the Rattlers' first series of the fourth quarter.
How permanent this change is, I'm not sure, but he looked a bit more comfortable than McKay has today. Unfortunately, the result was the same -a fantastic Chris Faddoul punt, this one pinning JSU inside their own 10.
END OF THE THIRD QUARTER: JACKSON STATE 7 - FAMU 6
That...wasn't the most exciting quarter of football.
Aside from the sequence where McKay fumbled (I still think his arm was going forward) only for Bishop Bonnett to steal the ball right back on the same play, it's been a struggle for any of the offenses to do anything.
15 minutes left and the Rattlers continue to trail by a point.
3rd Quarter, 9:44: 7-6, Jackson State
Crisis averted as the FAMU defense once again stands tall, forcing JSU three-and-out.
3rd Quarter, 11:58: 7-6, Jackson State
What was arguably the most promising drive of the game so far for the Fangs has ended in a turnover from Terrell Jennings, who has had a tremendous afternoon so far.
Bishop Bonnett did a majority of the damage for the Fangs, going for rushes of seven and eight yards and McKay even looked a little more comfortable in the pocket, finding Jah'Marae Sheread for a 10-yard gain a couple of plays before Jennings' fumble.
We'll get our first look at the Fangs defense this half and see if they can keep it a one-score game.
HALFTIME: JACKSON STATE 7 - FAMU 6
FAMU had a shot to take the lead heading into halftime, but Jose Romo-Martinez's 48-yard field goal attempt was blocked as time expired and it's a one-point JSU lead at the break.
For a second-straight FAMU drive, the run game looked strong while McKay still looks uncomfortable in the pocket, especially with the amount of pressure JSU is bringing on essentially every snap.
FAMU gets the ball to start the second half.
2nd Quarter, 2:29: 7-6, Jackson State
For a second-straight drive, JSU's efforts are ended on a lost fumble from Sanders, a stellar end to a drive for the FAMU defense who had really nothing else go their way.
In the nine-play drive, each of the first eight plays ended in positive yardage for the Tigers, who were looking guaranteed to add to their lead.
FAMU's defense has looked the part in nearly every way tonight.
2nd Quarter, 5:53: 7-6, Jackson State
The Rattlers are on the board for the second time today, this time via a 39-yard field goal.
It was a promising drive - the most successful one so far for the Rattlers, who went up-tempo and used both Terrell Jennings (two rushes, 21 yards) and Bishop Bonnett (two rushes, seven yards) to get the JSU defense off-kilter, but a loss rush and a couple of incompletions stall the Rattlers out around the JSU 20.
2nd Quarter, 8:32: 7-3, Jackson State
FUMBLEEEEEEE!
The first turnover of the day goes the way of the Rattlers, as Sanders loses the handle on the ball after being chased by a trio of Fang defenders in the backfield.
Rattlers takeover already in JSU territory, looking to re-take the lead.
2nd Quarter, 11:47: 7-3, Jackson State
The Tigers are on the board for the first time today in a drive that was all about Shedeur Sanders.
He totaled 61 passing yards and another three on the ground, including a one-yard touchdown rush for the first touchdown of the game.
Aided in Sanders' stellar drive were a pair of FAMU penalties: An offsides call after a FAMU timeout on 4th and 2 just pass midfield and a targeting call against Syracuse grad transfer Nadarius Fagan (which came on a 33-yard strike from Sanders to Trevonte Rucker.
The FAMU offense has been on the sideline for a long time and we'll see them for the first time this quarter.
END OF THE FIRST QUARTER: FAMU 3 - JACKSON STATE 0
15 minutes are in the books and the Rattlers are holding onto a three-point lead.
It hasn't been smooth sailing for either offense today: FAMU closes the first quarter with 20 yards of total offense while the Tigers have just 40.
But, the quarter ended with a couple of strong passes from Sanders - one for nine yards and another for 14 to set the Tigers across midfield.
We'll see if the Fangs' defense can hold strong to open the second frame.
1st Quarter, 2:36: 3-0, FAMU
What a swing of momentum from one end of the special teams spectrum to another.
The Tigers' Warren Newman took a Chris Faddoul punt down to the Rattlers ' 10 yardline, but the FAMU defense stood tall, forcing JSU to go three-and-out, including a Markquese Bell sack on third down, and a JSU missed field goal on fourth and goal keeps this a three-point game.
Lets see if the Rattlers' offensive can get anything going against the heavily-blitzing Tigers defense.
1st Quarter, 8:32: 3-0, FAMU
One offensive series, one score for FAMU this season as Zoron Wade knocks through a 21-yard field goal to put the Fangs ahead, 3-0.
It looked as if the Tigers may have made a huge defensive play, taking a batted ball to the other side of the field, but replay confirmed what it looked like in live action, that McKay had a pass batted down for an incompletion.
It wasn't an easy drive for the Rattlers, though: Bishop Bonnett had a couple of nifty runs but the Rattlers' offensive line is bending often to the Tigers' defensive front, giving McKay little to no time to make a decision or a play.
1st Quarter, 13:27: 0-0
It's a three-and-out for the first defensive series of the season for the Rattlers defense, who benefited from a fumbled snap by Shedeur Sanders on the first play from scrimmage.
Here comes the Rattler offense, led by Rasean McKay, for the first time this year.
Pregame
Happy Sunday, everyone! It's been a long time coming for the Rattlers but we will finally see them take the field yet again coming up at 3 p.m.
We are hoping to expand our FAMU coverage this year to match what we've been doing over the last few seasons with Florida State, and today is our first foray into that, so before we get too much further into it, I'd like to thank you for spending time with us today.
FSU isn't the only team who has yet to name a starting QB - the Rattlers have three contenders for the QB1 job with the graduation of Ryan Stanley. Now, we've got a competition between Resean McKay, Junior Muratovic and Cameron Sapp for the starting job. Your guess is as good as mine as to who it is we'll actually see, but I also won't be shocked if we see multiple QB's take the field, just for Willie Simmons to see what he has to work with in game action.
Once again, thanks for joining us this afternoon and welcome back, FAMU football.
Copyright 2021 WCTV. All rights reserved.