JT Burnette sentenced to three years in prison in bribery scheme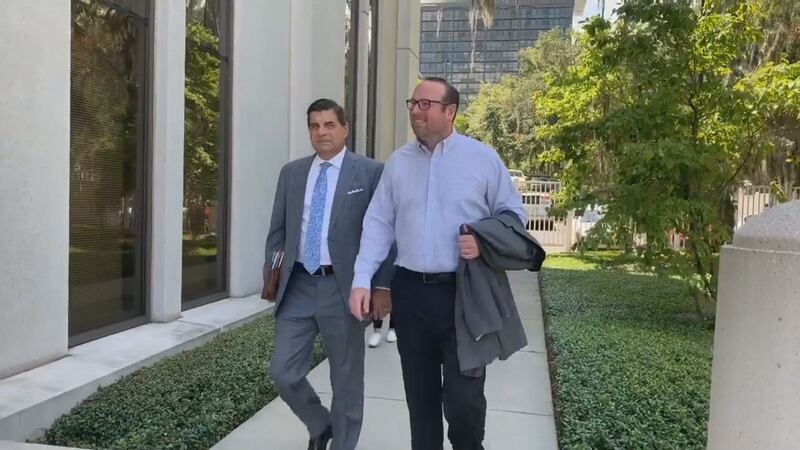 Published: Nov. 9, 2021 at 3:33 PM EST
TALLAHASSEE, Fla. (WCTV) - JT Burnette was sentenced to three years in prison in a corruption scandal that also brought down a Tallahassee City Commissioner and a close associate.
Burnette will also pay a $1,250,000 fine.
Burnette was sentenced in Tallahassee's federal court Tuesday afternoon on the same day that co-defendants Scott Maddox and Paige Carter-Smith were scheduled to report to prison to begin serving their sentences.
Maddox was sentenced to five years in prison and Carter-Smith was sentenced to three years in prison following their guilty pleas and testimony against Burnette at trial.
Burnette was found guilty of five charges including extortion and bribery at his trial in August.
Burnette's attorneys submitted a memorandum to the court late last week, arguing Burnette should face less time in prison than sentencing guidelines suggest. They pointed out he is a non-violent, first-time offender and a leader and philanthropist in the community.
The Judge began the sentencing hearing by discussing sentencing guidelines, objections to the pre-sentence report, and his rulings on each.
During his trial, the jury did not find Burnette guilty of participating in a racketeering conspiracy. That charge included the "McKibbon" allegation that Burnette paid a bribe to Scott Maddox to recuse himself on a vote that would effectively kill a rival hotel deal.
While Burnette was found not guilty of conspiracy, the Judge said from "Burnette's own testimony, this was a bribe."
Burnette testified that he was strong-armed in 2013, when Carter-Smith called him asking for $100,000. He said he proposed reworking the KaiserKane contract with Governance instead.
"When you pay the bribe, you're not a victim," said Judge Hinkle. "It's bribery. This is Mr. Burnette saying he paid $100,000 because he was concerned what Scott Maddox would do or what official act Scott Maddox would take in the future."
Judge Hinkle said acquitted conduct can be taken into account during sentencing. He pointed out that the jury did not find that Burnette paid a bribe related to the McKibbon allegation because the indictment did not have a bribery charge due to the statute of limitations. Instead, that bribe was part of the racketeering charge.
Judge Hinkle also said Burnette willfully gave false testimony during the trial.
"He falsely denied guilty on the bribery charge and the false statements charge," Hinkle said.
The Judge also pointed to Burnette's testimony during cross examination, when he was asked about why he didn't alert law enforcement when Undercover Agent Mike Sweet talked about a bribe. Burnette testified that he did not report Sweet to law enforcement because he did not think you could bribe anyone in Tallahassee.
"Well, he did think you could. He'd already done it," Judge Hinkle said, referring to the McKibbon part of the case.
After Judge Hinkle's comments, which lasted just over half an hour, defense attorney Tim Jansen spoke about why his client should be granted leniency.
Jansen told the judge that Burnette has made a positive commitment to the Tallahassee community, helping children, strangers, and young entrepreneurs.
He spoke about Burnette's upbringing in "very unstable, very poor" conditions. Jansen said Burnette's mother and stepfather were addicted to crack cocaine.
Jansen said Burnette's stepfather was abusive toward his mother; one day, Burnette's 10 year-old younger brother was ready to kill their stepfather with a .38 pistol.
"He convinced his brother to put the gun down," Jansen said.
Burnette was 12 at the time.
He then lived with his grandparents and attended Godby High School to be a part of their work program. Burnette started a tech company at the age of 17, obtained his roofing license at the age of 20, and his general contractor license in his early 30s.
Jansen spoke to Judge Hinkle about the many letters he'd received about Burnette, describing the wide array of people from all income streams.
The letters included messages from the past president of the Florida Bar, a family friend who Burnette helped leave an abusive relationship, and a mother whose mortgage Burnette had paid and refused repayment for. Letters from a Quincy church, Capital City YMCA, a School Board Member, and the Challenger Learning Center detailed Burnette's generosity with his time and money.
Attorney Brian Rich was the first character witness for Burnette.
Rich is a bankruptcy attorney who says he met Burnette during the Great Recession, adding that he quickly learned Burnette is "smart and non confrontational."
Rich testified to multiple situations in which Burnette helped people anonymously.
He spoke about the foreclosure of the DoubleTree, saying Burnette was more concerned about the losses for his business partners, the impact on the employees, and the effect on the community than his own financial losses.
Zachary Zelner also spoke to the judge about Burnette, describing him as a mentor and business partner, and asking the judge "for grace."
He said Burnette taught him about the importance of "treating people well, first and foremost."
Zelner said he spent most of his twenties "losing JT's money over and over," but that Burnette always believed in him.
'It's hard to process that his faith in me far exceeded my own," he said. "Without his sacrifice I never would've become the man I am today."
A young woman who Burnette and his wife, Kim Rivers, took in when she was in middle school spoke to the judge about him. She said he is nothing but patient, supportive, and sympathetic.
Miss Stephens said Burnette saw her potential and put her in a different school, allowing her to live with he and Ms. Rivers.
"I was able to break the cycle I was in," she said, adding that Burnette had done the same for her sister, and was currently paying her sister's college tuition.
She said Burnette and his wife provided an "incredible support system and unwavering kindness."
Burnette's wife, Kim Rivers, was the final speaker before Burnette spoke to the judge. She was emotional, asking that his entire person be taken into account.
She said that for Burnette, his work provides an escape from his upbringing, and he finds joy in his family and friends.
Rivers described Burnette as a peacemaker and a dedicated family man. She said he gets pleasure from helping people because he knows what it is to struggle.
After the four people who spoke on his behalf, JT Burnette spoke directly to the judge, saying he is "embarrassed and ashamed," and has a "full appreciation for the damages."
Burnette said he hurt the integrity of the local government as well as his friends and family.
"Some people are sports fans; I'm a fan of Tallahassee. It hurts knowing my actions brought shame not only on myself, but our City," he said.
Burnette spoke about the effect of the trial on his friends and family, as well as "innocent bystanders."
"There are no words to describe how sorry I am," Burnette said. "It kills me to see people I've never met being harmed."
Burnette said some people had lost business because of their affiliation with him, and there were adverse effects on people through no fault of their own.
"The pain that you cause your loved ones is with you for life," Burnette said.
The deputy director of the U.S. Department of Justice's Public Integrity Section, Peter Nothstein, spoke to the judge on behalf of the prosecution regarding Burnette's sentence.
Nothstein said he was "struck by the defendant's upbringing," but he said the judge needs to look at who he was in the summer of 2013, a "wealthy businessman."
Nothstein spoke about the alleged bribe Burnette paid to former City Commissioner Scott Maddox, saying the two were "birds of a feather."
"In order to benefit himself, he out of the blue offered a bribe to a sitting City Commissioner," Nothstein said.
Nothstein said two years later, Burnette met the three undercover FBI agents.
"He walked them through, step by step, how to do it again," Nothstein said. "It was just a cost."
The prosecution said the undercover agents made it very clear that they wanted to pay a bribe, saying it doesn't "mitigate" Burnette's guilt, but rather "underscores" it.
Nothstein pointed to a recorded conversation in Dallas in January of 2017, when the undercover agents made it clear they were paying Scott Maddox.
"He doubled down," Nothstein said, pointing to the recording in which Burnette told the agents if they stopped paying he'd leave the deal.
The prosecution then turned to what they called the "second set of lies told on the stand," calling them "calculated, prepared lies."
Nothstein argued that for all the good things Burnette did, his way of business was taking advantage of others, pointing to Melissa Oglseby's, Burnette's cousin's, testimony about her 8(A) company, KaiserKane.
"The corrupt way in which he was operating was consistent," Nothstein argued.
Judge Hinkle explained his thoughts on Burnette's sentencing, saying the factors can be divided into two categories: the offense, and the offender. He said the two "cut in very opposite directions."
"Bribery undermines faith in this system of government and calls into question not just the projects the defendant has been involved in, but projects that others have been involved in," said Hinkle.
Hinkle said if Burnette was strong-armed into paying $100,000 related to the McKibbon project, "that's terrible, but that's not an excuse."
"The economy can't function if bribery is the way things are done," Hinkle said. "This is an offense that calls for a very substantial sentence."
Hinkle spoke about the difference between the two sets of factors.
"Mr. Burnette, aside from these offenses, has a remarkable record. The speakers are just the tip of the iceberg," he said.
Hinkle said Burnette's difficult background and his support of worthy causes, including the donation of N95 facemasks to TMH, is worth noting.
"What I'd like is to announce a sentence of 20 years for general deterrence, but I'm sentencing an individual," Hinkle said.
The judge ordered Burnette to report to prison on January 9, 2022 to begin serving his three-year sentence.
Burnette has announced his intent to file for appeal.
RELATED STORIES
Copyright 2021 WCTV. All rights reserved.