Noles 247: A glimpse into negotiations between FSU and Mark Krikorian before his resignation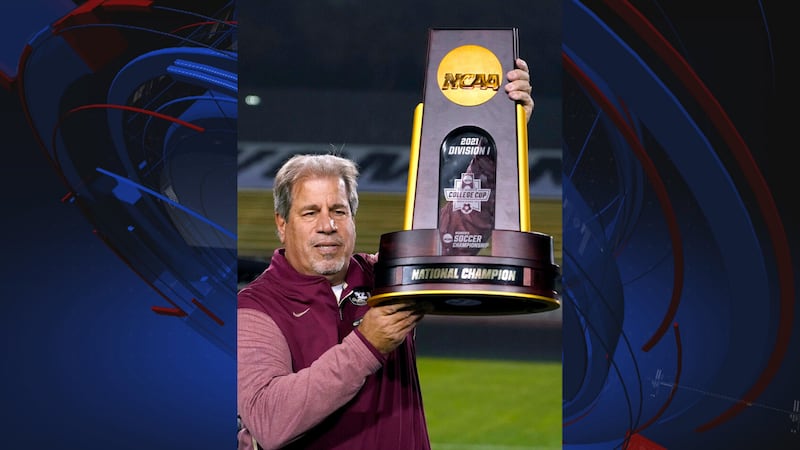 Published: Apr. 8, 2022 at 1:06 PM EDT
TALLAHASSEE, Fla. (247Sports) - Florida State Athletics offered an industry-leading contract and top-tier incentives in negotiations to retain the services of head soccer coach Mark Krikorian before his resignation on March 29th. Through a public records request, Noles247.com has learned many of the details of the negotiation process between the Athletic Department and Krikorian prior to his final decision.
Krikorian's final decision, his resignation, came 45 days after active negotiations between the two sides in 2022. His resignation was shared by him with numerous members of the local media, including us at Noles247.com. Prior to Krikorian issuing those public comments to Noles247.com and others, he had let FSU President Richard McCullough know of his decision. Below is that e-mail from Krikorian, which was sent at 3:07 p.m. on the day of his resignation:
You asked me in the meeting yesterday if money equaled respect and I don't think I did a good job of explaining my position.
I was not planning on coming back once the job offer was given to Michael Alford in December. You asked me to give it a chance which I agreed to do. My salary request was an amount that I thought would allow me to look past working for someone that I didn't respect and didn't feel I could trust. After the negotiation process I am more convinced that I was right in how I viewed things in December.
Thank you for your time and support. I do wish you and Florida State success in the future.
Mark
First we need to set the stage of how we got to the point of the nation's best soccer coach opting to resign, instead of re-sign.
Krikorian had been under a five-year contract that he agreed to in 2016 that was set to expire on December 31, 2020.
In the midst of the pandemic, and financial cuts for the athletic department, an agreement was reached to extend the pre-existing deal with Krikorian from the final day of 2020 to December 31, 2021.
Krikorian was paid a salary of $450,000 in 2021. He was the highest-paid women's soccer coach in the country, exceeding the next highest paid head coach (UNC's Anson Dorrance) by $40,000. The next coach on the list is making less than $275,000. Krikorian led FSU to their third championship in his tenure, and in school history, that season.
With the contract set to expire after Krikorian and his team hoisted the national championship, he agreed to extend the contract to March 31, 2022 to allow a window for further negotiation.
FSU's initial offer came on February 15 of this year. Their first offer was a 3-year contract that began at $470,000 annually with a $15,000 escalation for Year Two and Year Three of the salary. There was also a $25,000 retention bonus for each year. An annual car allowance of $9,600 was also built into the contract. With potential performance bonuses, his total potential compensation for each year was $675,600, $690,600, and $730,600.
In addition to the contract value, FSU has also approved $1,000,000 in funding and projects related to soccer including: a much-needed new videoboard and scoreboard project, which is already underway, a new field surface, which is set for later this year, and other upgrades.
Throughout the negotiations, FSU made it clear that they felt their overall investment into soccer and annual budget for the program ranked among the top three in the country.
FSU, through the sharing of spreadsheets between the two sides, showed the revenue generating power of the program and the sport. Items such as gate for attendees, viewership and television contracts, and other pertinent figures. A spreadsheet showed that FSU spent $2.79 million on soccer, second only to $3.07 million being spent by Texas A&M in a comparison of 30 schools - the average spent nationally was $1.90 million.
The first counter offer from Krikorian and his representatives came two days after FSU's initial offer. The counter was also for a 3-year deal with a starting salary of $750,000 and an annual escalation of $25,000. With additional compensation, bonus structure, and other requests in the counter offer, Krikorian's total compensation for each year would exceed $1,000,000 ($1.03 million in year 1, $1.055 million in year 2, and $1.08 million in year 3).
FSU's counter proposal came 11 days later, on February 28. The counter proposal had a starting salary of $550,000, plus a signing bonus of $50,000. The salary would escalate by $25,000 each year, to a total of $600,000 in year three. The total compensation per year - car allowance plus retention bonus - was $609,600, $584,600, $609,600. With potential performance bonuses, his total potential compensation for each year was $825,600, $825,600, and $875,600, respectively.
Krikorian's camp again countered on March 4. This time the counter came with an extended explanation, more dialogue, instead of another spreadsheet as had been shared by the two sides to this point in time. It is mentioned that Krikorian's prior contract (expiring contract) was negotiated prior to winning the 2018 National Championship and that his $50,000 annual increase (as he got from 2018 to 2019 for example) was interrupted by the pandemic and athletic department budget cuts. By that calculation, they presented that Krikorian would have earned a base salary of $500,000 in 2021 and been due a base salary of $550,000 in 2022. The strongest language of the negotiations from Krikorian's side came after this point:
During the time that contract negotiations were put on hold, Mark fell into step of being a "team player", accepting that the university was not in a position to present a new contract. Further, volunteering to go on furlough and accepting a pay deduction in line with the athletic department's need to save funds. While we do understand that he was made whole in late 2021 for these deferred payments, he was unable to go back to the negotiating table for a new contract and increase in pay that would have been accepted for the 2021 calendar year.
Amidst personal insecurity of his own contract, he pressed on in his usual single-focused mindset, leading the team to two more National Championship appearances and another title in a single calendar year. It would stand to reason that the next contract presented to a coach with success in this measure would not only see the previously demonstrated incremental raise, but possibly even higher.
As mentioned previously, Mark has been loyal to Florida State and the women's soccer program for seventeen years, and over the course of the past 24 months, has been approached by multiple organizations and federations with offers that would be landmark for a women's soccer coach.
It is worth noting that the discussion points brought up by Krikorian's representation above happened under prior leadership at FSU - not the President or Director of Athletics that were involved in his negotiations in the first quarter of 2022.
Following that discussion point, Krikorian's representation responded with its 'final ask' - $750,000 in guaranteed pay (same as their initial counter first-year total) through December 31, 2022, with resumption of previous bonus structure. Also requested was $100,000 to disperse between technical staff, consisting of two assistants and a Director of Operations, which was viewed as a 'bonus for their accomplishment in 2021′. It was not to have any bearing on requested performance raises of the technical staff. FSU did award $100,000 to Krikorian to disperse amongst his staff for their national championship run and victory in 2021. Krikorian and his representation were seeking an additional $100,000 in separate requests to go to salaries moving forward.
At this point, the counter proposal shows that Krikorian viewed 2022, at this stage of negotiations, as his final season with the Seminoles.
In return, Mark will stay on through December 31, 2022, leaving the program in a much better place and paying respects to so many 5th year seniors who have decided to return this Fall to compete. During this time, Mark will be happy to work with the administration to help find his successor, minimizing the impact his departure will have on the future of the program with aims to stabilize pending recruiting commitments.
The last thing Mark wants to do is place the program, and, in turn, his legacy at Florida State, in jeopardy by way of an untimely off-season departure. I think you will agree that what is best for the program, and how it is viewed in the global footballing community, would be for him to see out the end of the 2022 season and allow those players to end their careers on a high note. Furthermore, it makes sense from a numbers perspective, when you sum the three years on your most recent offer, adding up to around $1.8M in guarantees. Assuming his replacement likely won't get half of that, it is still an overall savings.
FSU then countered on March 16. FSU's counter at this point was a 1-year deal with a $450,000 salary plus a $50,000 signing bonus and a $125,000 contract completion bonus. With the car stipend, their counter was $634,600 in total guaranteed compensation, and with bonuses a potential total compensation of $820,600.
At this point, negotiations appeared to have fully broken down between the two sides. A conference call to discuss the latest counter offer by FSU never came to be and the response from Krikorian's representation the following day is below, laying out the differences between the two sides:
We just spoke with our client after having reviewed your latest offer.
At this point, I don't think getting on another call and sharing each other's narratives makes sense.
Mark's bottom line is $750k + 100k for his assistants.
We're currently $50k apart on the assistants and $115k apart on his guaranteed portion of the package. Is this a gap you'll be able to bridge or should we agree this won't make sense to go forward? Please let us know after reviewing with your team and we can go from there.
FSU Vice President and Director of Athletics Michael Alford responded directly to Krikorian's representation within two hours after receiving the above e-mail. Alford shared that he was traveling with the women's basketball team (NCAA Tournament) and that he and his team would review the response and get back to Krikorian and his camp.
On March 25, Alford and the University shared the below response:
We are extremely proud of Mark's body of work and commitment to the success of FSU soccer program. We have amassed resources to provide an offer substantially above market in our effort to retain Mark as our Head Coach. The counter offer we provided last week is our final offer.
After further discussion, one last proposal from FSU was sent by Alford to Krikorian's representation. It was mentioned by Alford in the email that the proposal was discussed with Krikorian that morning (the 29th). That proposal was emailed at 10 a.m. that day. The proposal had a base salary of $450,000, with a contract signing bonus of $75,000 and a contract completion bonus of $125,000. Total guaranteed compensation of $659,600 with potential of total compensation reaching $825,600 with contingent bonuses being fully accomplished. Discussion points also included $50,000 to divide upon staff salaries, bonus structure with a total of another $50,000 for assistants, as well as the new field and video board valued over $1 million dollars.
Krikorian's representation immediately responded that they would speak with Krikorian and 'get back quickly'.
At 3:07 p.m. Krikorian sent the aforementioned email to FSU President Richard McCullough sharing his intentions to resign. McCullough shared a response to Krikorian later that hour, but after Krikorian has issued his statement to local media regarding his decision to move on from the program. McCullough's response is below:
Dear Coach Krikorian,
I am disappointed that you have come to this decision. We agree that the final offer that was made to you this morning was not only fair, but very generous. The negotiation was done with integrity and respect to you and your success, and I wish we could have come to a different outcome.
You will always be a part of the Florida State University family and you will be missed by all. Thank you for all the glory that you have brought to FSU.
Best of luck to you.
All my best, Rick
Richard D. McCullough
President
Florida State University
FSU's initial base salary offer to Krikorian, not including the retention bonus or car allowance, was 13% higher than the second-highest paid coach in the country. FSU would move up their offers on that figure during negotiations. Krikorian's initial (consistent and final) counter offer of salary of $750,000 is 83% higher than the second highest paid coach in the country.
FSU's assistant salary pool was the highest in the nation and during negotiations FSU offered to increase it even further.
In the end, FSU was unable to retain the best soccer coach in the country who has brought unparalleled success on the pitch to the program over the past two decades. The price point for doing so was beyond the limits of what FSU viewed more than reasonable for the program and sport. Beyond financials, Krikorian's final communication also lends itself to a disconnect between him and leadership.
Noles247.com's Brendan Sonnone contributed to this article.
Copyright 2022 247Sports. All rights reserved.