VSU's Tremaine Jackson dubs "Set Your Face" motto ahead of 2022 football season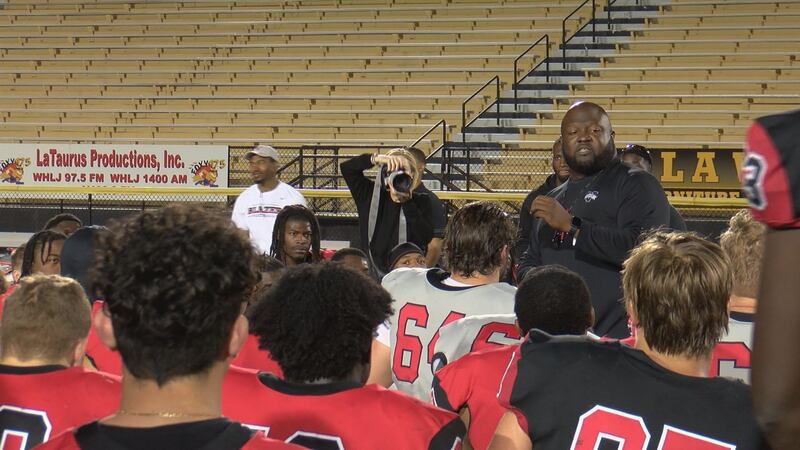 Published: Aug. 5, 2022 at 7:05 PM EDT
VALDOSTA, Ga. (WCTV) - The final college team in our area kicking off the 2022 football season Friday morning as the Blazers of Valdosta State opened up its fall camp. The expectations are always sky high up in Winnersville. This year especially so with star quarterback Ivory Durham returning and first year head coach Tremaine Jackson taking over the program.
"You know we have a lot of special kids. We have a lot of kids who weren't here in the spring with us that are now here that we're getting to coach for the first time," Jackson said of VSU's first day, "Having the whole team knowing that we're focused on the mission of trying to win another championship, and it being August where the smell of the grass--it lets you know that the time is coming-- it's fun."
The senior leadership on this football team has already bought in to what Jackson is selling. Linebacker Jameon Gaskin and QB Ivory Durham love what Coach brings to the table.
"He sets the tone everyday. Coming out--if you're dead, he's going to put you at the back of the line. He might even send you back inside," Gaskin said with a smile, "He's big on energy. He's big on faith. He wants us to fly around. He wants us to be enthusiastic. The most enthusiastic team wins most of the time. That's what he preaches on."
"When he first came in, we said we want this to be a player led team," Durham continued, "We'll take care of the stuff on the field and in the locker room. So, we're doing a great job. He's trusting us and we're trusting him. We're just taking care of business with the great leadership that we have."
Jackson has told the media before, he wants his guys to have a "DOG" mentality comprised of Discipline, Obedience, and Grit. In concert with that, Jackson and the Blazers have adopted a new motto ahead of this football season: "Set Your Face".
"You know, Luke 9:51 tells us that Jesus set his face on the way to Jerusalem. We all know what he went through when he got there and on the way there. So, we told our kids we need that type of focus," Jackson explained, "We need that type of laser focus so it matters not what type of adversity we face, the heat, what people are saying about us--no matter what it is. We have to set our face to get to our Jerusalem. Our Jerusalem is McKinney, Texas. We understand that. We have a long way to go. So we're trying to set our face just like him in order to get there."
Gaskin and Durham agree with the message, saying it will take just one step at a time to get where they want to go.
"When we say set your face--it's focusing on the now," Gaskin said, "Set your face in the moment that you're in and if we do that, win every day and every week, we'll find ourselves in McKinney."
"Set your face. It's exactly what it sounds like," Durham concluded, "Set who you are and it will continue. Just set your face and don't look back."
Valdosta State kicks off its 2022 football season against Keiser University at home on Thursday, September 1st at 7:00 PM.
Copyright 2022 WCTV. All rights reserved.