Chabad House FSU installs modular homes as rebuild continues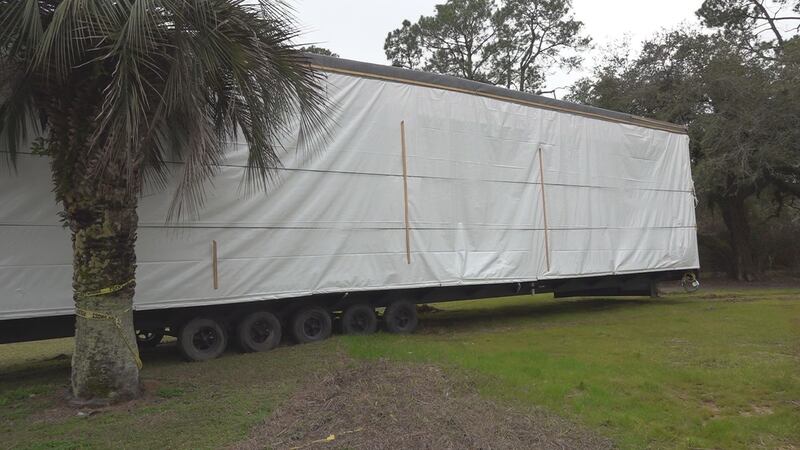 Published: Feb. 2, 2023 at 5:53 PM EST
TALLAHASSEE, Fla. (WCTV) - Chabad House FSU Rabbi Schneur Oirechman couldn't help but laugh reflecting on the past nine months.
"It reminds me of the Jews wandering in the desert- one day here another day there," he said, joking about his congregation's difficult journey.
On Thursday, Rabbi Oirechman received much needed good news in the form of four modular home units delivered right to his front door.
Crews are working to connect all four units to form one temporary synagogue, complete with a gathering space and a commercial kitchen.
The structure will be home base for Chabad while a new center is built next door. The Rabbi hopes to see that open in 2025.
"The journey has been like life- ups, downs, ups downs- but [we are] always keeping our faith as a community knowing god will provide and has been providing, and our good friends in the community... it's nice the generosity of the people in the community and the trust they have in us," he said.
A lengthy investigation determined the May 2022 fire was accidental. After the charred wreckage was cleared, services were held in event-style tents set up in front of the Rabbi's home.
He says on particularly hot or cold days, he'd move the congregation inside into his home. The cramped set up was the only option.
But the new modular homes will solve those problems, allowing the group to feel a bit of normalcy for the first time in nine months.
Rabbi Oirechman hopes to have the new set up in time for Passover in April.
He said they are still about $180,000 short in their initial fundraising campaign to pay for the modular units.
Copyright 2023 WCTV. All rights reserved.