Florida Takeoff 7v7 prepares for National Championship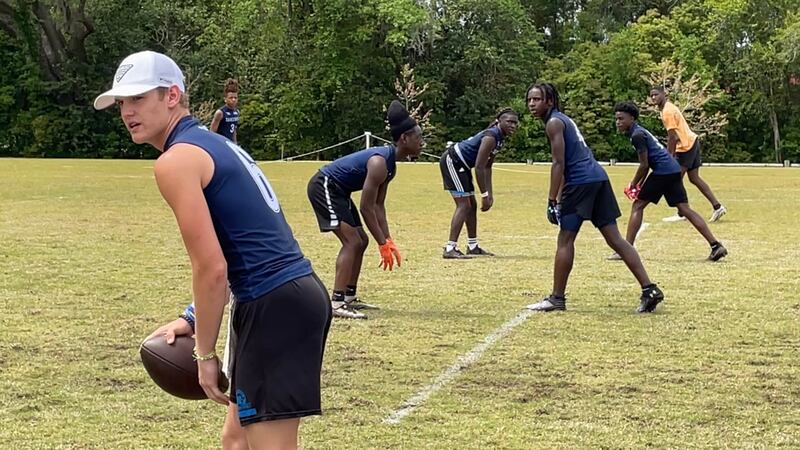 Published: Apr. 4, 2023 at 7:47 PM EDT
TALLAHASSEE, Fla. (WCTV) - Here in the south football is king and we just can't seem to get enough of it. High School Football, College Football, Professional Football, Girls Flag Football and more all have their day in the sun. We're more than accustomed to seeing 11 players give it their all on either side of the field but many a high school prospect has become more than comfortable playing seven on seven.
That includes the dedicated players that make up Florida Takeoff 7v7, a local team that's been making a lot of noise in the 7v7 scene as of late. Fresh off a strong showing at the Dirty South Showdown in Atlanta, Takeoff has received a berth to the National Championships in Plano, Texas.
"Sometimes you've got to get the kids out there and let them experience something different. A lot of these kids have just been to Florida and a little outside to Georgia so we want to try to get them college visits," remakred Coach Aaron Johnson of the chance to play in the Lone Star State in front of a slew of college scouts. "On3 could be out there, 247, Rivals so they can get looks and get writeups and be put on the national stage."
The team is currently asking for donations to help fund the trip to Texas and are asking those interested to contact them on Twitter and Instagram or donate correction on Cash App to the handle $7v7teams.
To stay up to date on all the latest news as it develops, follow WCTV on Facebook and on Twitter.
Have a news tip or see an error that needs correction? Write us here.
Copyright 2023 WCTV. All rights reserved.