Testimony now underway in trial of Andrew Gillum, Sharon Lettman-Hicks
Undercover FBI agent is first witness to take the stand, describes famous trip to NYC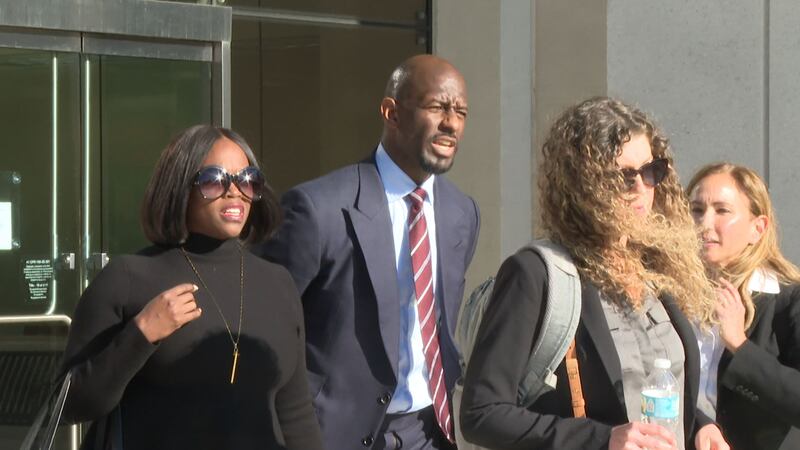 Published: Apr. 18, 2023 at 7:00 AM EDT
|
Updated: Apr. 18, 2023 at 2:24 PM EDT
UPDATE: An undercover FBI agent is the first witness to take the stand in the conspiracy and fraud trial of former Tallahassee Mayor and Florida Gubernatorial candidate Andrew Gillum and his former campaign advisor Sharon Lettman-Hicks.
Mike Miller is one of two undercover FBI agents who are at the center of the Government's case.
He began testifying just before noon and so far his testimony has focused on an August 2016 trip to New York City. Jurors have been able to see several text messages and hear several undercover recordings of agents interacting with Andrew Gilllum, his brother Marcus Gillum, and former colleague Adam Corey both at the Hard Rock Cafe and during intermission of the Broadway play "Hamilton."
Miller testified that he paid for one night's hotel stay for Andrew Gillum, paid $2500 for the Hamilton tickets and organized the boat ride to see the Statue of Liberty. Miller testified there were three other undercover FBI agents on that boat too.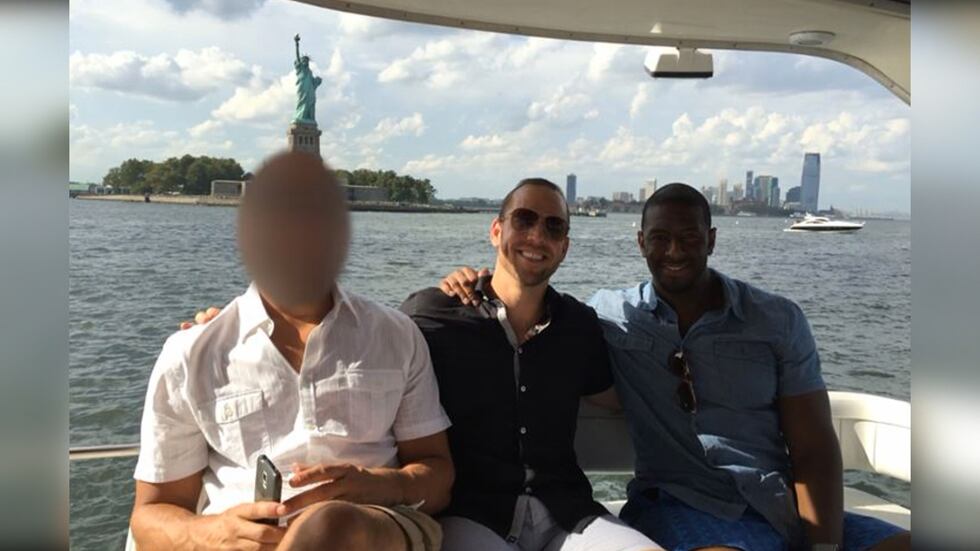 Jurors did see a text message from Andrew Gillum to Mike Miller afterward saying, "You guys were excellent hosts."
Prosecutors told the judge Miller could spend several more hours on the witness stand this afternoon.
Miller's testimony came after attorneys made their opening statements to the jury Tuesday morning.
"These are serious donors. These are large scale donors," Assistant U.S. Attorney Gary Milligan told the jury as he described what prosecutors claim is a conspiracy by Gillum and Lettman-Hicks to route campaign contributions through P&P Communications and into their pockets. They contend some contributions were illegally used to pay Gillum's salary at P&P.
A $250,000 contribution from South Florida billionaire Donald Sussman was one of the donations highlighted by prosecutors.
"You're going to learn more about campaigns … than you ever wanted to know," Milligan told the jury.
"Mr. Gillum is not charged with bribery," Milligan said, but "it looked like he was willing to take a bribe if he could structure it the right way."
Prosecutors contend Gillum directed undercover FBI agents posing as real estate developers to his close associates so he could "distance himself" from any discussion tying campaign contributions to support of specific projects.
Federal prosecutors also say Gillum lied to FBI agents about who paid for Hamilton tickets, a boat ride and hotel stay in a now famous trip to New York City.
"They paid for everything," Milligan said of the undercover agents on that trip.
Defense attorney David Markus shook his head repeatedly and took notes throughout the Government's opening statement as Gillum listened intently. Sharon Lettman-Hicks sat with hands clasped and occasionally conferred with her attorney Mutaqee Akbar.
"This is about what happens when you put a target on Andrew Gillum's back," defense attorney Margot Moss told the jury in her opening statements. "The FBI looked for corruption in Tallahassee and they found it, but not with Andrew Gillum."
Moss said jurors will hear multiple undercover recordings of both Gillum and lawyer Sean Pittman, who repeatedly deny FBI agents' attempts to establish a quid pro quo for a $100,000 campaign donation.
"Thank goodness we have those recordings," Moss told the jury.
She said jurors will also hear recordings of Gillum's brother, Marcus Gillum, meeting with undercover FBI agents.
"He says crazy things," Moss said. "He's a car salesman."
"Marcus Gillum is not Andrew Gillum and he doesn't speak for Andrew Gillum," Moss told the jury.
Moss then turned to wire fraud allegations that focus on Lettman Hicks' handling of campaign contributions at her firm, P&P Communications, and the paychecks Gillum's received for his work there. Moss contends Gillum was busy running a statewide campaign for Governor and had no reason to question the source of the money used to fund his paychecks.
Lettman-Hicks attorney, Mutaqee Akbar, described the case as an example of "see what you want to see, hear what you want to hear and investigate what you want to investigate."
He described the emails, text messages, recordings, and bank statements that jurors are about to see in this case as "breadcrumbs."
"Those breadcrumbs don't lead you to a conspiracy. They don't lead you to wire fraud. They don't lead you to guilty," Akbar said. "They will only lead you to the truth."
Lettman-Hicks was a longtime mentor to Gillum who ran his first campaign for Tallahassee City Commission and suggested he run for Governor.
"She was strong … she demanded respect," Akbar said. Akbar said Lettman-Hicks used her "political acumen" to run a grass roots campaign that helped Gillum earn the Democratic nomination for Governor in 2018.
"She worked those strategies up. She worked that money up. She worked Andrew Gillum's name up," Akbar told the jury.
He described in great detail the contributions received by P&P, its relationships with multiple donors and non-profits, and says jurors will hear from an expert that it's not unusual for a senior campaign advisor to also be a "vendor" for a campaign.
Opening statements took more than two hours.
Multiple reporters were taking notes with pen and paper and at least two sketch artists were busy in the gallery trying to capture the scene, because television cameras and recording devices are not allowed in federal court.
TALLAHASSEE, Fla. (WCTV) - Attorneys are expected to make their opening statements to the jury Tuesday morning as Andrew Gillum and Sharon Lettman-Hicks stand trial on federal conspiracy and fraud charges.
Jury selection lasted nearly eight hours Monday and attorneys were able to agree on 12 jurors and 3 alternates just before 6 p.m.
Gillum, a former Tallahassee Mayor and Florida Gubernatorial candidate, is accused of conspiring with former campaign advisor Sharon Lettman-Hicks to funnel campaign contributions for his personal use.
Those are charges Gillum denied in a lengthy Facebook post on the eve of trial.
The trial is slated to begin at 8 a.m. Tuesday at the federal courthouse in Tallahassee.
The judge says attorneys in the case will each have about 30 minutes to make their opening statements, before federal prosecutors start calling witnesses.
The judge read off a list of about 40 potential witnesses Monday, including two undercover FBI agents, but there is no word yet on who the Government's first witness will be.
To stay up to date on all the latest news as it develops, follow WCTV on Facebook and on Twitter.
Have a news tip or see an error that needs correction? Write us here.
Copyright 2023 WCTV. All rights reserved.