Final Weigh In: PBJ PLZ! brings in more than 5 tons of peanut butter and jelly, more than $44,000
PB&J to help hungry children and families throughout the summer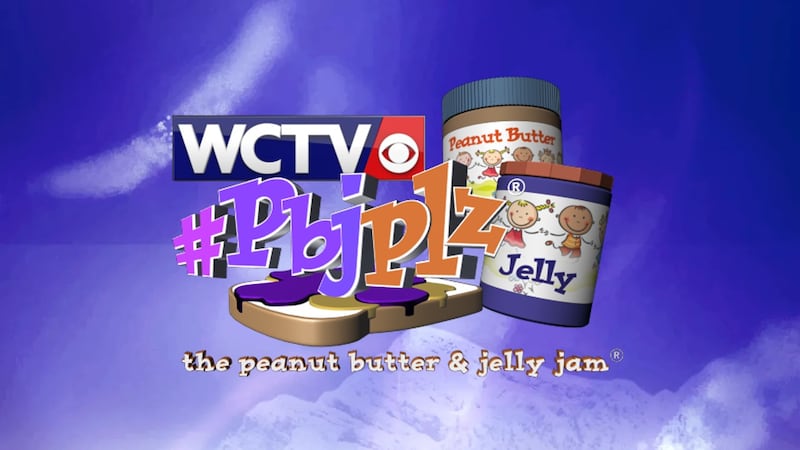 Published: May. 11, 2023 at 12:13 PM EDT
|
Updated: May. 11, 2023 at 6:57 PM EDT
TALLAHASSEE, Fla. (WCTV) - WCTV's PBJ PLZ! drive has brought in more than 5 tons of peanut butter and jelly and more than $44,000 to help feed hungry children this summer.
The total donations were unveiled at a final weigh in Thursday morning as bins full of peanut butter and jelly covered the warehouse floor at Second Harvest.
"This is absolutely incredible to see so many families and children involved in this kind of effort," Second Harvest CEO Monique Ellsworth said. "We were blown away by the numbers."
"I'm usually not short on words, but I'm speechless. It just made my heart smile immediately when I walked in the door," said Leon County Schools Superintendent Rocky Hanna. "I'm so thankful to all of our children and community members that stepped up and made this happen. Again ... it just represents what's best of Tallahassee and Leon County."
PBJ PLZ! is a collaboration among WCTV, Leon County Schools and Second Harvest of the Big Bend. It invites Leon County school children to bring jars of peanut butter and jelly to school and encourages community members to donate online.
This year's drive started on National Peanut Butter and Jelly Day and lasted throughout the month of April.
Students at Gilchrist Elementary School kicked off the drive with a curbside party that featured two students dressed as peanut butter and jelly sandwiches dancing in front of the school to the song "Peanut Butter Jelly Time." Students dropped off jars of peanut butter and jelly as they were dropped off to begin the school day.
Students at Montford Middle School capped off the drive earlier this week after winning a challenge with rival Swift Creek Middle School to see which school could collect the most peanut butter and jelly. The two schools together collected 700 jars of peanut butter and jelly, but Montford collected the most and its student body president got to throw a pie in the face of Swift Creek principal Jason Koerner.
WCTV's Crunch Time Special in the final week of the drive helped to bring in $20,000 in one day. Total donations doubled in less than an hour and tripled by day's end.
By the end of the drive, online donations topped $44,000.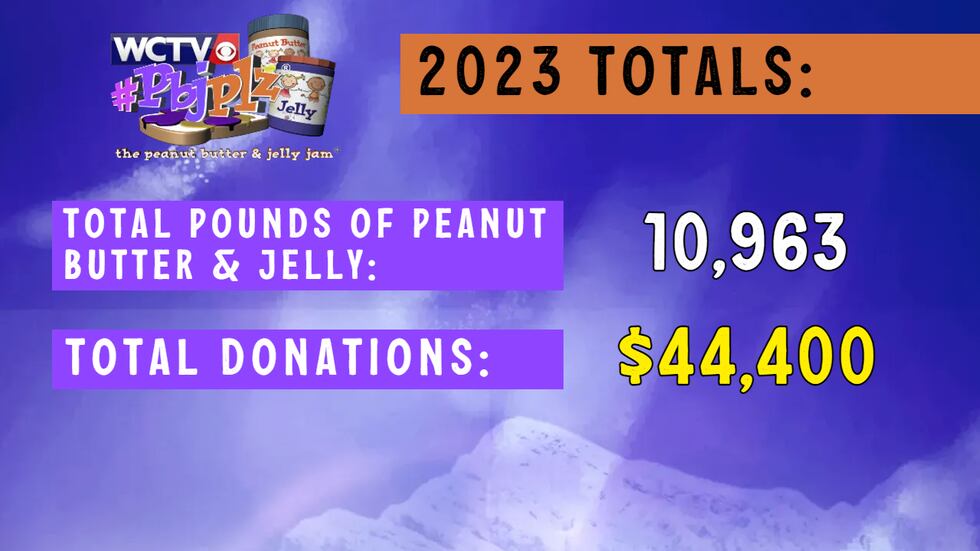 Online donations will be used to buy more peanut butter and jelly and other kid-friendly foods. The jars of peanut butter and jelly will be distributed to children and families throughout the summer through school pantries, food giveaways, and Food on the Move vans that visit hungry neighborhoods across Tallahassee.
"We know that in Leon County alone, 20,000 children are benefitting from free or reduced breakfast and lunch, so we anticipate that that same number of children are going home to an under-resourced household possibly and during the summertime are going to really be in need," Second Harvest CEO Monique Ellsworth said. "So, upwards of 20,000 children are going to benefit from this particular drive."
PBJ PLZ! is in its seventh year, with this year's drive bringing the total donations to nearly 33 tons of peanut butter and jelly and more than $215,000.
To stay up to date on all the latest news as it develops, follow WCTV on Facebook and Twitter.
Have a news tip or see an error that needs correction? Write us here.
Keep up with all the biggest headlines on the WCTV News app. Click here to download it now.
Copyright 2023 WCTV. All rights reserved.