'Unlivable,' 'Unaffordable,' 'Unsanitary': Renters at Lake Bradford Estates raise concerns
In the first story of this limited series, two renters at the Tallahassee mobile home park plea for help with what they call unsanitary living conditions
Published: May. 16, 2023 at 10:12 PM EDT
|
Updated: May. 16, 2023 at 11:36 PM EDT
TALLAHASSEE, Fla. (WCTV) - Things went wrong for Jessica Nealy immediately.
When the 29-year-old mother of three stepped into her new home at Lake Bradford Estates in February, she found urine and feces pooled in the tub, sinks and toilet. She was appalled.
Nealy told WCTV she alerted the property manager, and a few days later she received word that the unit was ready. She moved in with her three sons, who are 6 years old, 2 years old and 5 months old.
A week later, it happened again.
When Nealy went back for help, management balked at her request, she said.
"She made the comment that we were responsible for any maintenance issues on the property now," Nealy said.
Their only option was to take a plunger to the bathtub and other drains.
"We have to sit there and plunge it, plunge it, plunge it, and pray it goes down," she said.
Management took six days to send a plumber out to flush the pipes, Nealy said. The family was left to plunge several times a day while they waited, and they had to take care of sanitizing their own surfaces. The incidents continued.
"Every other week we have to find ways to get it to go down," she said.
Dozens of the mobile home park's residents spoke with WCTV on and off the record to share their own stories of what they describe as unlivable conditions, safety hazards and apathetic staff.
Some of the inhabitants at the southwest Tallahassee park gave up and left. Some were evicted. Many remain.
Management on site at Lake Bradford Estates declined to comment or answer questions from WCTV. Lawyers representing the park did not return emails or a call from WCTV.
In this limited series, WCTV will share some of the residents' stories, plus what more than 50 pages of records we obtained reveal about the property and compliance. Some of those documents go back more than a decade. Our series will also delve into how residents say new fees and rising rents have pushed them to a financial breaking point.
You'll hear from real people who live at Lake Bradford Estates: The former employee and longtime resident who remains on the property out of passion and love for his home and the community that once was; That resident's lawyer, whose firm has also taken on more than 40 other people from the park; And the hardworking occupants who can't afford to leave.
Welcoming white "NOW LEASING" letters flap on a red and yellow flag at the end of the long residential road leading up to Lake Bradford Estates. The banner waves at residents and visitors from beside a bright white Lake Bradford sign in a patch of flowers and plants.
Beyond the entrance, a mobile home-turned-office with an apparently hand-made "OFFICE" sign greets guests. Staked into the ground out front of the office is a sign with battered notices for residents.
A few left turns past that is the home of Jennifer Futch, a longtime renter at Lake Bradford Estates who, of late, feels stuck in the mobile home park.
The home of the caregiver and housekeeper tells the story of the aftermath of sewage and water problems.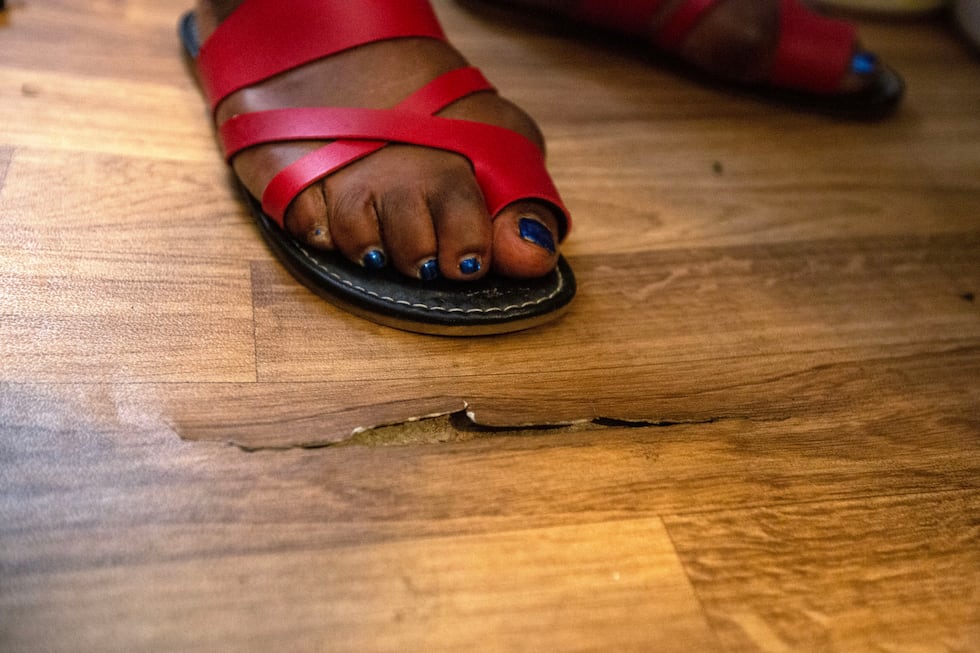 Futch can identify which parts of her floors are especially bloated and soft from water damage. Beneath the tan laminate planks, the floor gives. One wrong step, Futch worries, could send her through.
She's been treading carefully since her toilet and tub broke more than three years ago, the renter said. But she's tired of tiptoeing.
After nearly a decade on the lot, Futch has seen multiple property managers and owners.
At one point, the toilet was replaced, but she said the feces and urine it leaked onto her floors were never addressed by management. Futch splurged on countless disinfectants and deodorizing products to subdue the stench, which she said used to permeate her whole home.
The tub still leaks, so she avoids using it. Futch said she believes cracks in the surface let water seep into her floors, causing them to warp and decay.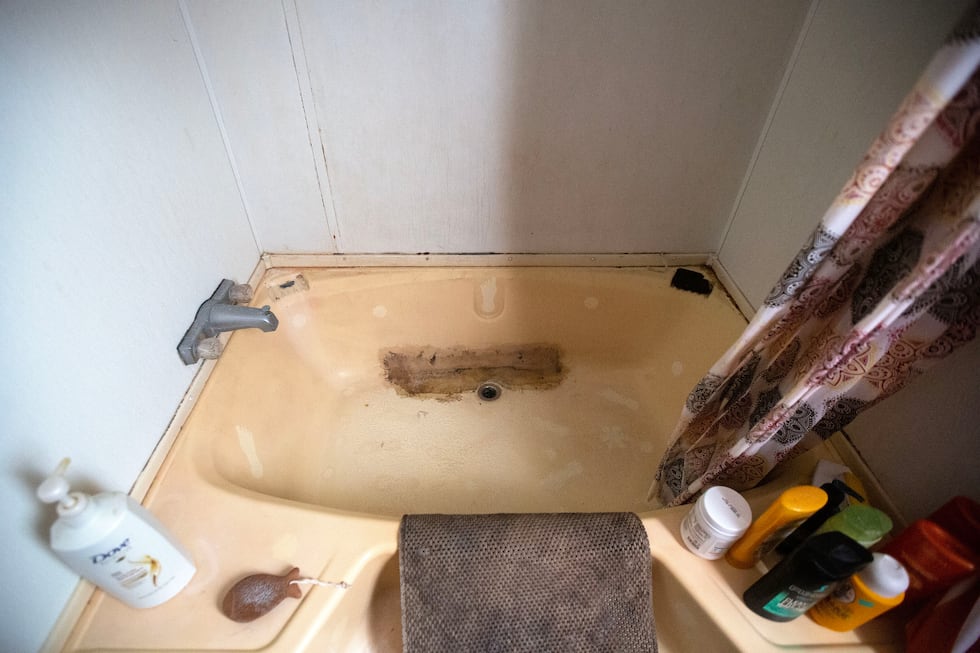 Over the years, she's tried and failed to get fixes, she said.
"Promise after promise, property manager after property manager, and they know," she said. "They know about it."
When Futch moved into her trailer on July 1, 2014, the community was quiet and she had aunts living in their own mobile homes on the property, too. With family nearby, she settled in.
Although Futch rents her trailer from the park, she invested in it. She said she has paid for her own pest control services for nine years. She foots the bill to pressure wash her home regularly, and she had fresh carpet laid in the living room.
"Yes, I'm a renter, spending my money, trying to hold on," she said. "But if they fixed things, I wouldn't mind. But they're not fixing nothing."

The community has changed, Futch said. Lots of the long-term occupants left after recent rent hikes and added fees for services like trash and lawn care. The added costs are stressful and disappointing, she said.
"It's sad, really really sad. They got a lot of money, but they don't have no money for the people that they getting they money from," Futch said. "We been here and been spending our money to help this place keep going. And then you get somebody that buy that don't care about nobody out here."
Futch wants to move, but she said looking for a new place is hard and tiring. An ongoing housing crisis has pushed prices up across the state.
"It's way more expensive. But if I have to do that, I'll do it," she said. "If they don't fix this place, if I'm going to pay more money, I might as well move. It takes a lot out of your energy to even be looking."
For now, Futch said she lives in fear of finding another new fee posted on her door.
Check out the full 'Unlivable,' 'Unaffordable,' 'Unsanitary,' series here
To stay up to date on all the latest news as it develops, follow WCTV on Facebook and Twitter.
Have a news tip or see an error that needs correction? Write us here.
Keep up with all the biggest headlines on the WCTV News app. Click here to download it now.
Copyright 2023 WCTV. All rights reserved.