Cairo Fire Chief arrested by Georgia Bureau of Investigation
The GBI alleges he made "questionable purchases" from a Fire Department account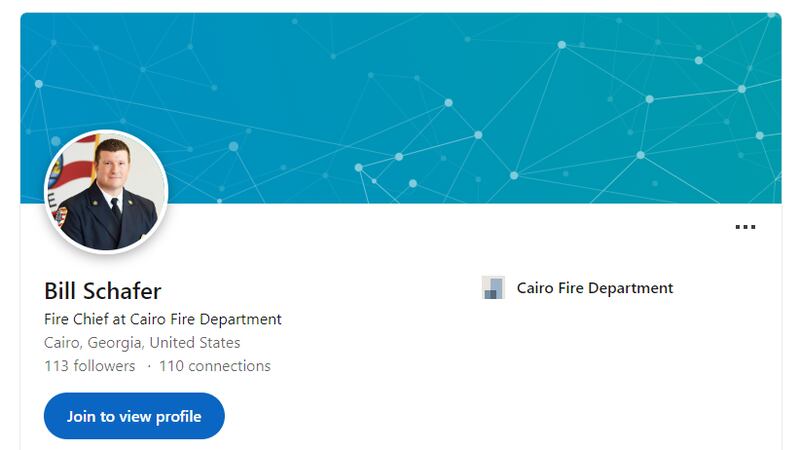 Published: May. 26, 2023 at 6:30 PM EDT
GRADY COUNTY, Ga. (WCTV) - The Cairo Fire Chief was arrested by the Georgia Bureau of Investigation after turning himself into the Grady County Jail Thursday, according to a GBI press release.
The GBI said they began on May 11 to look into "questionable purchases from a financial account specific to the Cairo Fire Department" that Chief William "Bill" Thomas Schafer allegedly made. A spokesperson for the bureau shared the nature of the buys but declined to share details.
"Some of the items we have seen would be "personal" and "non-fire related" purchases," spokesperson Jamy Steinberg wrote in an email.
Schafer, 45, is charged with two counts of felony theft by taking and one felony count of violating oath of office, according to the press release. The Cairo Fire Department did not respond to questions from WCTV on Schafer's employment status or if he will be replaced.
Schafer's arrest comes two weeks after District Attorney Joe MulHolland requested GBI investigate the fire chief, according to the press release. The GBI said investigations continue.
"Additional charges of theft are expected in this investigation involving Schafer when the case is presented to a Grady County Grand Jury at a later date," the press release said.
GBI agents reviewed records and conducted interviews to investigate Schafer's purchases, according to the release. Investigators plan to bring more records to a Grady County Grand Jury in the future to "compare purchases made from various stores and vendors for other purchases," according to the release.
To stay up to date on all the latest news as it develops, follow WCTV on Facebook and Twitter.
Have a news tip or see an error that needs correction? Write us here.
Keep up with all the biggest headlines on the WCTV News app. Click here to download it now.
Copyright 2023 WCTV. All rights reserved.