Former Florida State player Travis Rudolph found not guilty in murder trial
Rudolph pleaded not guilty to all charges, citing self defense.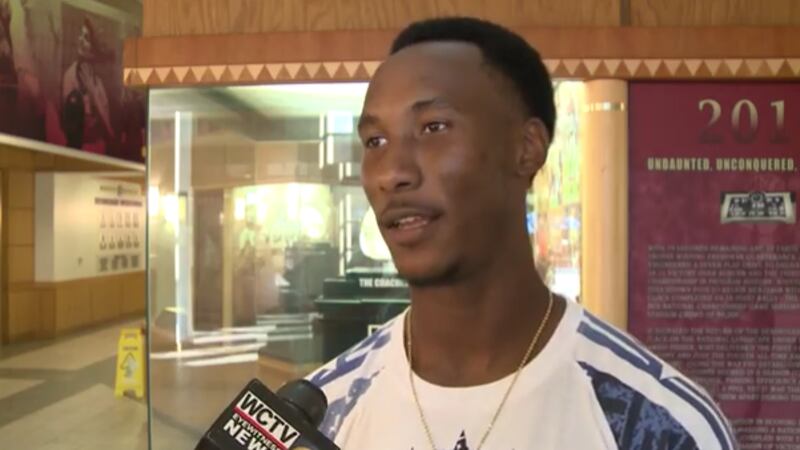 Published: Jun. 7, 2023 at 4:02 PM EDT
TALLAHASSEE, Fla. (WCTV) - More than two years after being charged in connection with a shooting in Palm Beach County, former Florida State wide receiver Travis Rudolph was found not guilty on all counts, according to court records.
Rudolph pleaded not guilty to the first-degree murder and attempted first-degree murder charges, citing self defense.
On April 7, 2021, authorities responded to reports of a double-shooting outside Rudolph's home, and found one victim dead and another injured.
According to a probable cause affidavit, four men showed up at Rudolph's doorstep to confront him about an argument he had with his girlfriend. Rudolph was later arrested.
Rudolph played for FSU from 2014 to 2016. News of his arrest came to a surprise to FSU fans and students, with many recognizing him for a viral picture of him sitting with Bo Paske, an autistic student eating alone at school.
Speaking to reporters outside the courthouse Wednesday afternoon, Rudolph told a crowd of reporters that the verdict came as a relief.
"It means everything man, I finally got my freedom back. I can get back to my life," Rudolph told reporters.
He thanked the jury, and later said he plans to celebrate with his family, and eventually "get back to trying to play football."
To stay up to date on all the latest news as it develops, follow WCTV on Facebook and Twitter.
Have a news tip or see an error that needs correction? Write us here.
Keep up with all the biggest headlines on the WCTV News app. Click here to download it now.
Copyright 2023 WCTV. All rights reserved.