FSU College of Medicine establishes scholarship fund in honor of Chief Medical Officer Dr. Daniel Van Durme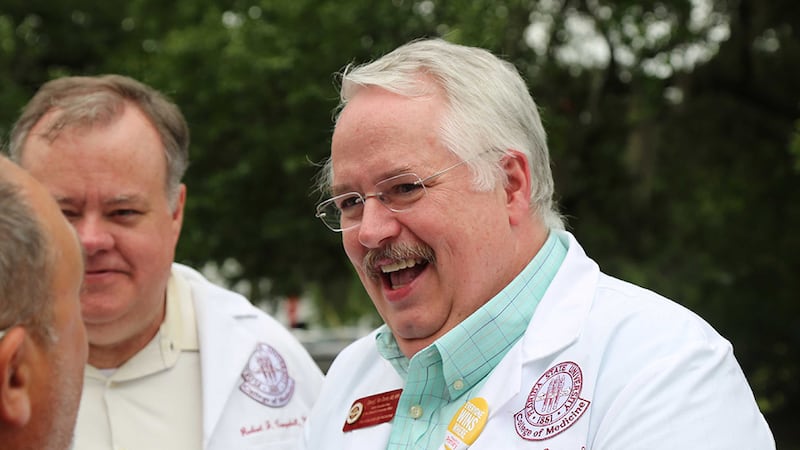 Published: Jun. 7, 2023 at 10:50 AM EDT
TALLAHASSEE, Fla. (WCTV) - The Florida State University College of Medicine has established a scholarship fund in honor of Dr. Daniel Van Durme, the school's Chief Medical Officer who passed away following a motorcycle accident.
The fund is now active and will support students who "embody Dr. Van Durme's commitment to providing respectful, patient-centered care that is responsive to community needs," according to the page.
Dr. Van Durme passed away last week, following a five-week stay in the hospital after he was involved in a motorcycle accident in Tallahassee.
His funeral is set for Saturday, June 10, at Saint Mark the Evangelist Catholic Church in Tampa.
The College of Medicine shared a statement from Dr. Van Durme's wife, two daughters, and son.
"𝘞𝘦 𝘸𝘰𝘶𝘭𝘥 𝘭𝘪𝘬𝘦 𝘵𝘰 𝘪𝘯𝘷𝘪𝘵𝘦 𝘢𝘯𝘺𝘰𝘯𝘦 𝘵𝘰 𝘤𝘰𝘮𝘦 𝘤𝘦𝘭𝘦𝘣𝘳𝘢𝘵𝘦 𝘋𝘢𝘯'𝘴 𝘭𝘪𝘧𝘦. 𝘖𝘶𝘳 𝘰𝘯𝘦 𝘳𝘦𝘲𝘶𝘦𝘴𝘵 𝘪𝘴 𝘵𝘩𝘢𝘵 𝘱𝘦𝘰𝘱𝘭𝘦 𝘸𝘦𝘢𝘳 𝘤𝘰𝘭𝘰𝘳𝘧𝘶𝘭, 𝘩𝘢𝘱𝘱𝘺 𝘤𝘭𝘰𝘵𝘩𝘦𝘴 𝘢𝘴 𝘸𝘦 𝘤𝘦𝘭𝘦𝘣𝘳𝘢𝘵𝘦 𝘵𝘩𝘦 𝘭𝘪𝘧𝘦 𝘰𝘧 𝘵𝘩𝘪𝘴 𝘸𝘰𝘯𝘥𝘦𝘳𝘧𝘶𝘭 𝘮𝘢𝘯. 𝘛𝘩𝘦𝘳𝘦 𝘸𝘪𝘭𝘭 𝘣𝘦 𝘢 𝘴𝘮𝘢𝘭𝘭 𝘳𝘦𝘤𝘦𝘱𝘵𝘪𝘰𝘯 𝘢𝘧𝘵𝘦𝘳𝘸𝘢𝘳𝘥𝘴 𝘪𝘯 𝘵𝘩𝘦 𝘝𝘦𝘯𝘦𝘵𝘪𝘢𝘯 𝘊𝘦𝘯𝘵𝘦𝘳, 𝘸𝘩𝘪𝘤𝘩 𝘪𝘴 𝘰𝘯 𝘵𝘩𝘦 𝘴𝘢𝘮𝘦 𝘨𝘳𝘰𝘶𝘯𝘥𝘴, 𝘴𝘰 𝘦𝘷𝘦𝘳𝘺𝘰𝘯𝘦 𝘤𝘢𝘯 𝘨𝘢𝘵𝘩𝘦𝘳 𝘢𝘯𝘥 𝘵𝘦𝘭𝘭 𝘵𝘩𝘦𝘪𝘳 𝘧𝘢𝘷𝘰𝘳𝘪𝘵𝘦 𝘴𝘵𝘰𝘳𝘪𝘦𝘴 𝘰𝘧 𝘋𝘢𝘯."
To stay up to date on all the latest news as it develops, follow WCTV on Facebook and Twitter.
Have a news tip or see an error that needs correction? Write us here.
Keep up with all the biggest headlines on the WCTV News app. Click here to download it now.
Copyright 2023 WCTV. All rights reserved.