FINAL: FSU falls in game one 5-0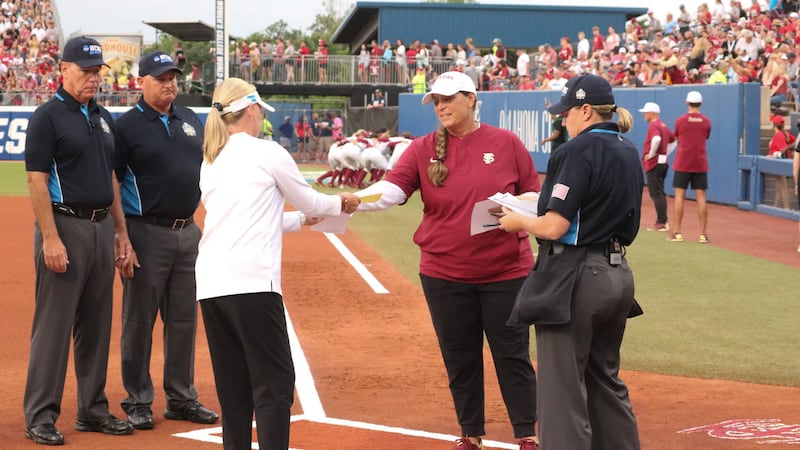 Published: Jun. 7, 2023 at 9:18 PM EDT
OKLAHOMA CITY, Okla. (WCTV) - Hey folks! Sports Director Ryan Kelly here. Sorry for the late start, was shooting some photos pregame (can't wait to show them to you later!) but we're underway in OKC between FSU and OU...
Top 7th: FSU manages a walk and nothing else, 5-0 your final. OU leads the series 1-0
Bottom 6th: Well the bad news is OU scored again. The good news is Kaley Mudge just made the snag of a lifetime to rob the Sooners of a three run bomb. If you aren't watching live you missed out. 5-0 OU
- F5 retires the side. 'Noles with work to do.
Top 6th: 'Noles get two quick outs until Harding drives one to center for a base hit. She makes the turn to second and is gunned down by a great relay. FSU down to its last three outs trailing 4-0.
Bottom 5th: DuBois now in the circle for FSU
- A pair of two out singles have FSU in real trouble. One has scored and there's two more on the paths. 4-0 OU
- Walk, bases loaded with two outs
- F9 strands 'em loaded. 4-0 Sooners after five
Top 5th: For you baseball inclined it'd be a good time to sing O'Canada
- Ali DuBois hustling to the 'Noles bullpen with one out.
- 'Noles don't give much of a response. Quick 1-2-3 inning for FSU, 3-0 OU
Bottom 4th: OU gets a leadoff HBP, Kat Sandercock in the pen for FSU and Makenna Reid is in the circle.
- Kat is back in the dugout after a long mound visit
- Sooners strike first, Hansen with an RBI double, 1-0 OU
- Blooper from Brito scores Hansen. 2-0 OU
- Play at first goes wild after a collision and Brito comes home. Score it an E1. 3-0 OU
- F4 retires the side but the damage is done, 3-0 Oklahoma
Top 4th: Sorry for the lapse for a bit y'all. Had to run and do a live shot for the 11PM Newscast. FSU strands two RISP and gets nothing out of a golden chance. 0-0 still
Top 3rd: 'Noles get a leadoff courtesy of an E5 but can't do anything with it.
Bottom 2nd: CoachA off to chat with SP Mack Leonard after surrendering a one out walk. No bullpen action to my knowledge yet but we'll keep an eye on it.
- Stolen base, OU has a RISP with one out.
- Grounder and a K looking strand the Sooner.
Top 2nd: We have our first hit of the game as Michaela Edenfield singles up the middle. Sneads represent!
- That's all the 'Noles will muster though, a Devyn Flaherty K and a 6-4-3 GDP off the bat of Mack Leonard retire the side.
10:05 PM: We're back! OU goes down in order and we're scoreless after one
Bottom 1st: Aaaaaaaand we're back in a lightning delay after one out. Might be a long night y'all.
10:05 PM: We're back! OU goes down in order and we're scoreless after one
Top 1st: 'Noles go down in order
To stay up to date on all the latest news as it develops, follow WCTV on Facebook and Twitter.
Have a news tip or see an error that needs correction? Write us here.
Keep up with all the biggest headlines on the WCTV News app. Click here to download it now.
Copyright 2023 WCTV. All rights reserved.