Pope drinks liquids, makes brief call after surgery to remove intestinal scar tissue, repair hernia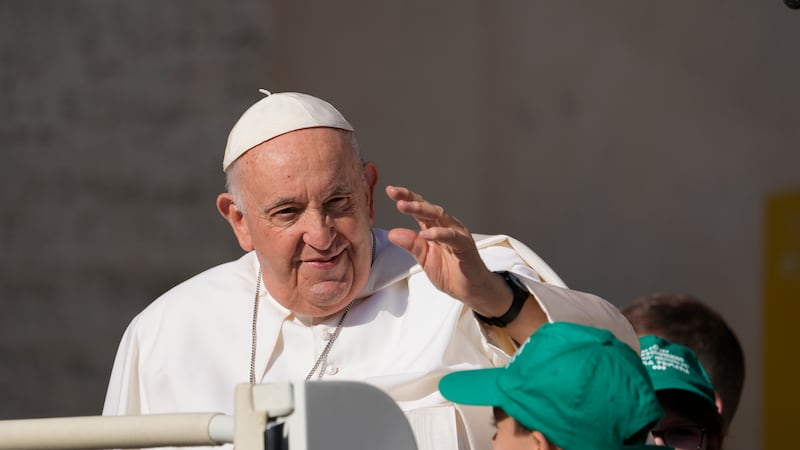 Published: Jun. 8, 2023 at 7:57 AM EDT
|
Updated: Jun. 8, 2023 at 2:54 PM EDT
ROME (AP) — Pope Francis drank liquids, received the Eucharist and even made a brief phone call Thursday on his first full day recovering from a three-hour operation to remove intestinal scar tissue and repair a hernia in his abdominal wall, the Vatican said.
The 86-year-old Francis rested "extensively" overnight and continued resting Thursday at Rome's Gemelli hospital, where his condition was stable and his post-operative recovery deemed to be regular, the Vatican said in a statement. He was on a liquid diet but received the Eucharist.
Among the well-wishes Francis received was a poster from the Peruvian family whose infant Francis baptized March 31 at Gemelli during his last hospital stay, while he was recovering from bronchitis. Francis called the mother briefly to thank her, the Vatican said.
The poster featured a widely seen photo of the pope caressing the cheek of baby Miguel Angel after the baptism as his mother looked on.
Francis was admitted to Gemelli on Wednesday for his second major abdominal operation in two years, following a 2021 procedure to remove part of his colon. During the procedure, doctors removed adhesions, or internal scarring, on the intestine that had caused a partial blockage. They also repaired a hernia that had formed over a previous scar, placing a prosthetic mesh in the abdominal wall.
Dr. Sergio Alfieri, director of abdominal and endocrine sciences at Gemelli, who performed the surgery, said the operation was a success, that there were no complications and that Francis was suffering from no other pathologies. He said the tissue removed was benign and that after he recovers, Francis should be fine.
He revealed that in addition to that 2021 operation, Francis had undergone previous abdominal surgeries sometime before 2013 in his native Argentina, which had also caused intestinal scarring.
Alfieri, who also removed part of Francis' colon in 2021, told an evening press conference that the pope was awake, alert and even joking. "When will we do the third one?" he quoted Francis as saying.
The pontiff was expected to remain in the 10th-floor papal suite at Gemelli for several days, and all papal audiences were canceled through June 18.
The operation was scheduled after Francis had complained about increasing bouts of pain and intestinal blockages. After going to Gemelli on Tuesday for checks, Francis was admitted Wednesday following his general audience and underwent the procedure a short time later.
The surgery was likely scheduled now to give Francis plenty of time to recover before embarking on planned travel later this summer: an Aug. 2-6 trip to Portugal for World Youth Day, an Aug. 31-Sept. 4 trip to Mongolia and a Sept. 23 day trip to Marseille, France.
A feared protrusion, or bulging of the intestine through the hernia tear, was apparently not found.
"It appears they operated on him in a timely fashion with no compromise to his intestine," said Dr. Walter Longo, chief of colon and rectal surgery at Yale University School of Medicine, who did not participate in the surgery and commented after consulting the Vatican statement on the procedure.
Dr. P. Ravi Kiran, chief of colorectal surgery at Columbia University, said the fact that there were adhesions removed "suggests that the small intestine might take some time to recover."
"It is good news that bowel did not need to be removed and the surgeon was able to place prosthetic mesh to bridge the defect in the abdominal muscle," Kiran said in an email. "There is always a risk of mesh infection when placed in a situation such as this, but factors such as any contamination seen at surgery, type of mesh and antibiotics used also impinge on this risk."
Francis remained in charge of the Vatican and the 1.3-billion strong Catholic Church, even while unconscious and in the hospital, according to canon law.
In July 2021, Francis spent 10 days at Gemelli to remove 33 centimeters (13 inches) of his large intestine. In an interview with The Associated Press in January, Francis said the diverticulosis, or bulges in his intestinal wall, that prompted that surgery had returned.
Dr. Manish Chand, a professor of surgery at University College London who specializes in colorectal surgery, said the greatest issue going forward will be pain management and making sure the wound heals properly.
"In the first six weeks after this type of surgery, you're at risk of getting a recurrence again," he said. To avoid that, patients are advised not to do anything strenuous.
One of the last people to see Francis on Wednesday before he left the Vatican for the hospital was the Rev. Enzo Fortunato, spokesman of the Basilica of St. Francis of Assisi.
"He was very serene, very tranquil, and he encouraged us to go on," Fortunato recalled. "This really hit me because it means he is not a man who is self-centered but focused on others. We said to him, 'Courage, and we will support you with our prayers.'"
__
Trisha Thomas in Rome and Maria Cheng in London contributed.
Copyright 2023 The Associated Press. All rights reserved.