Perseid meteor shower: When and how we can see it
The event will be visible from our night skies this weekend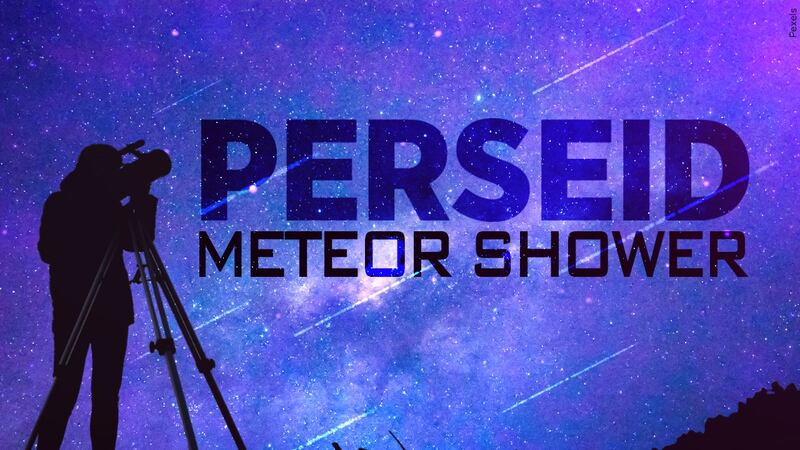 Published: Aug. 10, 2023 at 11:28 AM EDT
TALLAHASSEE, Fla. (WCTV) - The peak of the Perseid meteor shower will begin the evening of Saturday, Aug. 12, and will last through before dawn on Sunday, Aug. 13.
The Perseid meteor shower is caused by pieces of the Swift-Tuttle comet burning up as they enter the Earth's atmosphere. The Swift-Tuttle comet itself last made a pass near Earth in 1992. We will not be seeing the actual comet this time, only fragmented pieces of it. The next time the actual comet will pass will be 2126.
In 2022, the full moon during the Perseids made seeing fainter meteors more challenging because it lit up the sky too much. We are in for a treat this year, as the moon will only be 10% illuminated. Darker skies allow for many more meteors to be spotted.
Best viewing time: The later you stay up this Saturday night, the better. The best time to look for meteors will be in the pre-dawn hours of Sunday morning. 12:00 a.m. - 5:00 a.m. will be your best bet, but you still have a good chance of seeing some once the sun sets Saturday evening.
Where to look: Position yourself as far away from any light sources as you can. Take a few minutes to allow your eyes to adjust to the dark, then look towards the NORTH. More specifically, locate the Perseus Constellation in the night sky. During peak activity and under ideal observing conditions, you may see up to 100 meteors per hour, according to NASA.
And lastly, let's hope that those stubborn evening clouds clear out in time!
To stay up to date on all the latest news as it develops, follow WCTV on Facebook and Twitter.
Have a news tip or see an error that needs correction? Write us here. Please include the article's headline in your message.
Keep up with all the biggest headlines on the WCTV News app. Click here to download it now.
Copyright 2023 WCTV. All rights reserved.