UPDATE: Car stolen with toddler inside, "I had no idea," suspect tells police
Court documents describe a high-speed police pursuit and the moment a woman dropped off the toddler at a fire station
Published: Aug. 18, 2023 at 4:00 PM EDT
|
Updated: Aug. 18, 2023 at 9:37 PM EDT
TALLAHASSEE, Fla. (WCTV) - Body camera footage released Thursday shows Tallahassee Police Officers chasing a stolen car through south Tallahassee and ultimately tasing and arresting the driver.
Court documents released Friday say the woman, 20-year-old Diamond Thompson, told officers she had "no idea" there was a child in the car when she slipped behind the wheel outside the Dollar General on Ausley Road and drove away.
The child's mother told police she left her 23-month-old son, who is blind, sleeping in the car with the engine running while she ran into the store to get one item. When she came out the car was gone.
While officers were on the scene talking with the mother, court records say firefighters at the fire station down the street called to report that a woman had just dropped off a baby still strapped into its car seat. A firefighter trainee told officers he was sitting in class when the door opened and someone yelled, "There's a baby on the bench!" He said everyone got up and went outside only to discover there was in fact a child on the bench, and they watched a woman get into a red Honda Accord and drive away.
The child's mother was tracking the car thanks to an air tag inside, and a Leon County Sheriff's Office helicopter followed it from the air as it traveled on Orange Avenue, South Meridian Street, and Putnam Drive. TPD officers said when they first activated their lights and sirens behind the car at 2525 Texas Street, the car took off over a curb and through the grass.
Court papers describe the car barely missing a group of about a dozen children waiting at a school bus stop at the corner of Texas and Polk Streets, saying the children had to run into a field to avoid being hit, and officers described another close call with a pedestrian on Orange Avenue moments later.
The chase reached speeds of up to 80 miles an hour, court papers say. The driver bailed out on Kissimmee Street and officers chased her over a fence and through some brush, before tasing her and arresting her.
Court papers say Thompson told officers afterward it was never her intent to kidnap anyone's child. Thompson said when she realized there was a toddler in the back seat, "She told him everything was going to be okay," according to court records. Officers say Thompson was happy to hear the child had been reunited with his mother.
Thompson made her first appearance in court Friday morning.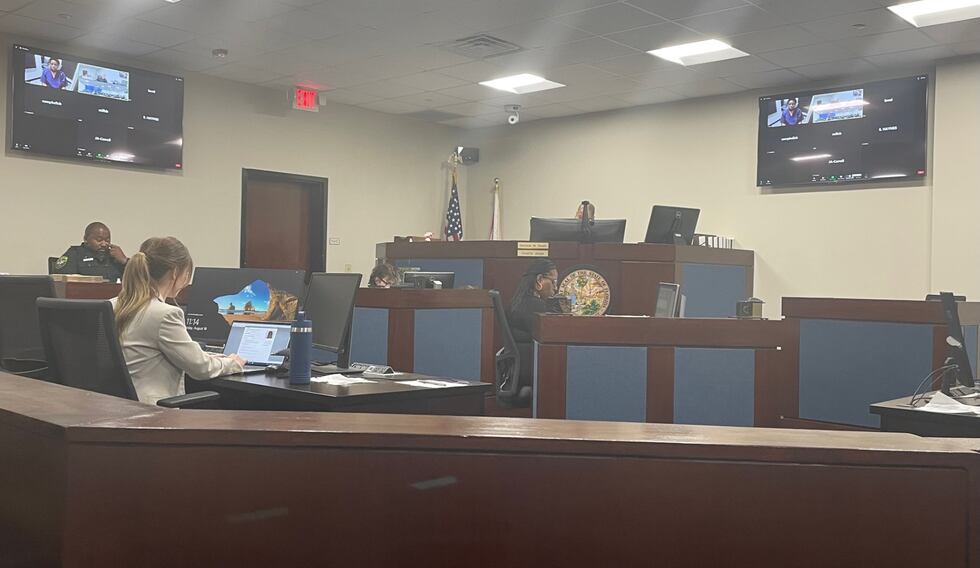 The judge did set a bond on the kidnapping and stolen car charges but ordered Thompson to be held without bond because she was already on probation for another stolen car charge.
To stay up to date on all the latest news as it develops, follow WCTV on Facebook and Twitter.
Have a news tip or see an error that needs correction? Write us here. Please include the article's headline in your message.
Keep up with all the biggest headlines on the WCTV News app. Click here to download it now.
Copyright 2023 WCTV. All rights reserved.