Rattlers begin prep for Jackson State, Orange Blossom Classic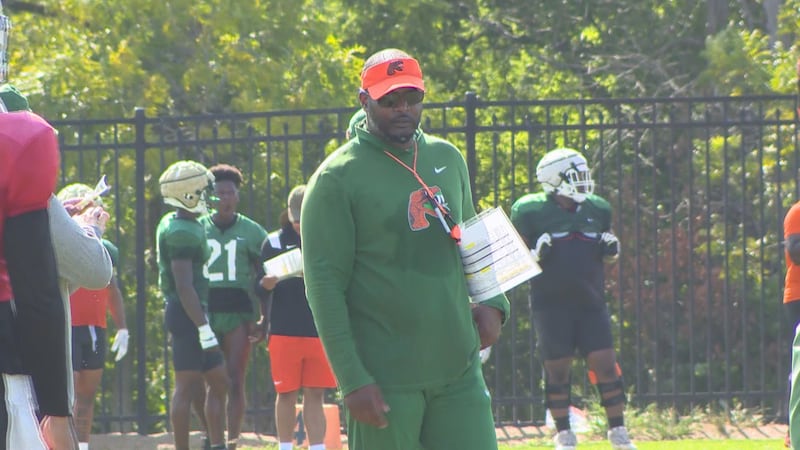 Published: Aug. 25, 2023 at 1:47 AM EDT
TALLAHASSEE, Fla. (WCTV) - FAMU has had 15 solid days in camp so far, but with the Orange Blossom Classic on the horizon, the team is ready to focus all eyes on Jackson State.
The Rattlers now shifting practice to focus on key plays and key positions to help them in their week one contest. Coach Willie Simmons knows his squad are likely to be the favorites at Hard Rock Stadium, and with the odds on their side, the Orange and Green just can't get in their own way.
"Talent is not enough," Said Simmons of what his team will need to break a two game skid in the OBC. "We're a really talented team across the board at every position. We have talent, we have depth, we have speed, athleticism, everything you look for in building a team, we have it. We have to understand that's not enough. We have to do the little things right. We have to pay attention to the details. We have to love and trust one another. Because without that, all that talent will go to waste."
Florida A&M kicks off against JSU in Miami Gardens Sunday, September 3rd at 3 PM with the contest being broadcast on ESPN.
To stay up to date on all the latest news as it develops, follow WCTV on Facebook and Twitter.
Have a news tip or see an error that needs correction? Write us here. Please include the article's headline in your message.
Keep up with all the biggest headlines on the WCTV News app. Click here to download it now.
Copyright 2023 WCTV. All rights reserved.