Honoring Bobby Bowden: Dunn, Scott working to award the late coach with a Congressional Gold Medal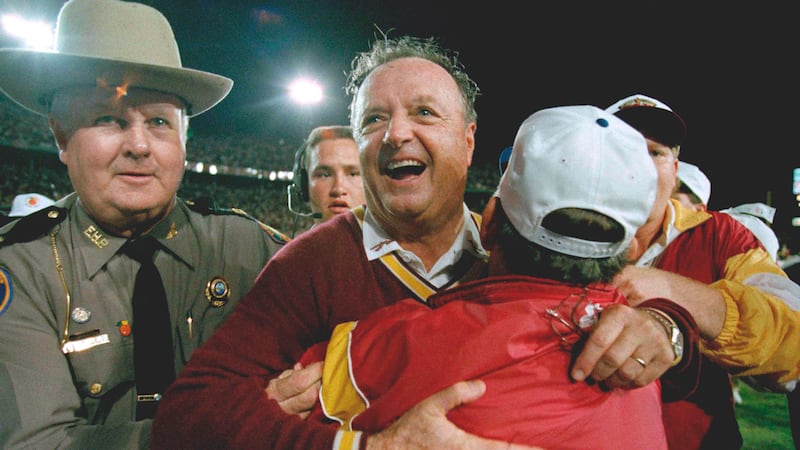 Published: Sep. 8, 2023 at 6:10 PM EDT
TALLAHASSEE, Fla. (WCTV) - A bill has been introduced in the United States Congress to posthumously award the late Bobby Bowden with a Congressional Gold Medal.
The bill, sponsored by Florida's Congressman Neal Dunn, M.D., and Senator Rick Scott, was filed on Friday, just over two years after Coach Bowden passed away from pancreatic cancer.
"While Coach Bobby Bowden was a legend on the football field, it is the generations of students, athletes and countless others he led and served off the field, that will forever define his greatness as an extraordinary leader, Floridian and American," Senator Rick Scott said. "Coach Bowden will be forever a Seminole, forever a Floridian, and with this legislation forever honored and recognized by the United States Congress for his lifetime of service and leadership."
"Coach Bobby Bowden was a leader on the field and in his community. While his grit and determination led the Seminoles to victory on many occasions, his kindness and generosity made him one of the most highly respected individuals in Florida," Congressman Neal Dunn said.
Coach Bowden was the Seminole's head football coach from 1976 to 2009 and won the school two national championships in 1993 and 1999.
In 2021, Congressman Dunn introduced a similar bill to award Bowden with the same medal, but it never made it out of the beginning stages of its life.
To stay up to date on all the latest news as it develops, follow WCTV on Facebook and Twitter.
Have a news tip or see an error that needs correction? Write us here. Please include the article's headline in your message.
Keep up with all the biggest headlines on the WCTV News app. Click here to download it now.
Copyright 2023 WCTV. All rights reserved.