Jefferson County Clerk Kirk Reams arrested for theft, fraud
Two other former court employees are facing similar charges
Published: Sep. 20, 2023 at 3:16 PM EDT
|
Updated: Sep. 20, 2023 at 9:50 PM EDT
JEFFERSON COUNTY, Fla. (WCTV) - Jefferson County Clerk Kirk Reams was arrested Wednesday for grand theft and fraud, his attorney confirmed to WCTV.
The clerk and two other former court employees are accused of "plott[ing] to illegally enrich themselves" and defrauding Jefferson County of more than $800,000 in public funds, according to the Florida Department of Law Enforcement.
Reams is facing charges of grand theft over $100,000 and scheme to defraud in excess of $50,000, according to the Florida Department of Law Enforcement. Reams's attorney David Collins also confirmed those charges Wednesday in a conversation with WCTV as he waited for Reams to be booked and released from the Jefferson County Jail.
The Florida Department of Law Enforcement alleges Reams "was spending county money on advertising and sponsorships and misusing the county purchasing card (P-Card) to pay for non-office related travel expenses," according to a press release.
Jefferson County Sheriff Mac McNeill confirmed Reams was booked at the county jail.
In an interview with WCTV Wednesday, Reams's attorney, David Collins, called the investigation a witch hunt.
"This $829,000 amount, it's never been stolen or taken," Collins said. "It's just a misunderstanding, or a not wanting to understand by commissioners and their forensic audit people."
FDLE also announced Wednesday the arrest of Jefferson County Clerk of Court Financial Consultant Warren "Charles" Culp Jr. as well. He faces a number of felony charges, including one count for scheme to defraud over $50,000, two counts for grand theft over $100,000, six counts for grand theft of over $20,000 but less than $100,000 and one count for grand theft $750 but less than $5,000, FDLE said in a statement.
Culp Jr. formerly worked for the state and involved in the auditing process of clerk of courts and court budgets, according to FDLE. He was booked in the Leon County Jail Wednesday.
Reams and Culp are accused of fraudulently misappropriating funds from the Jefferson Board of County Commissioners' bank account, the FDLE statement said of their criminal complaints.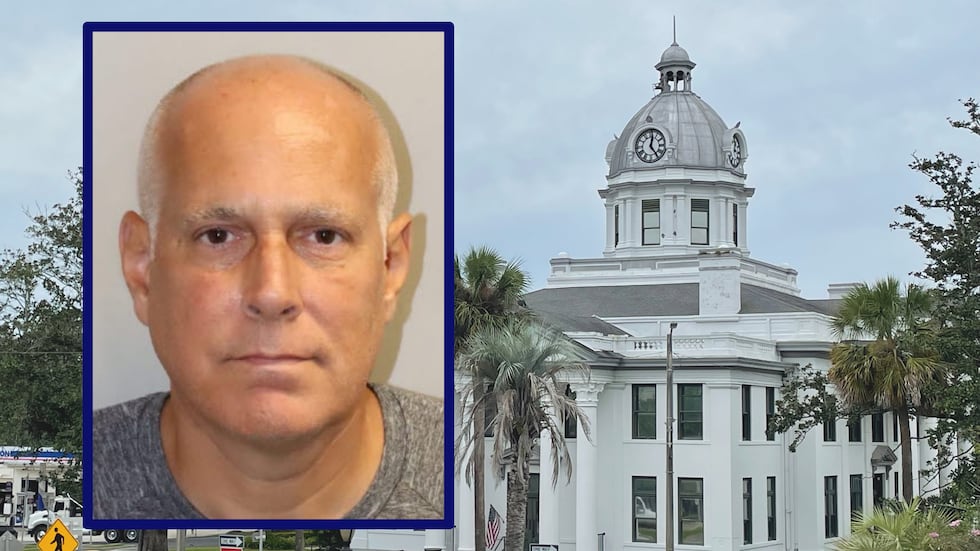 Additionally, former chief deputy clerk of court Justin "Tyler" McNeill turned himself in Wednesday afternoon, according to FDLE. The agency issued a warrant for Justin McNeill for fraud and theft-related crimes. He is also the former human resource director for the Jefferson Board of County Commissioners. The sheriff said he is not related to Justin McNeill.
"Reams used his position to establish a contract kickback scheme by which he, Culp and McNeill plotted to illegally enrich themselves," the FDLE statement said.
FDLE confirmed in January 2022 that it was conducting "an active investigation" into Reams.
Jefferson County Commissioners asked the State Attorney to investigate the possible misuse of funds in November 2022 after receiving the results of a forensic audit indicating Reams spent at least $829,000 of taxpayer dollars without board approval.
Reams has been under scrutiny since 2017 when he was accused of taking nude photos of his girlfriend inside the courthouse and allowing her to use a county-owned computer. He was arrested on misdemeanor theft charges and suspended from office in October 2017. He was found not guilty at trial in January 2018 and ultimately reinstated by the Gov. Rick Scott in November 2018. Reams was re-elected in 2020 with nearly 60% of the vote.
To stay up to date on all the latest news as it develops, follow WCTV on Facebook and X (Twitter).
Have a news tip or see an error that needs correction? Write us here. Please include the article's headline in your message.
Keep up with all the biggest headlines on the WCTV News app. Click here to download it now.
Copyright 2023 WCTV. All rights reserved.