Perry Police Department seeks public's help in solving string of burglaries in Perry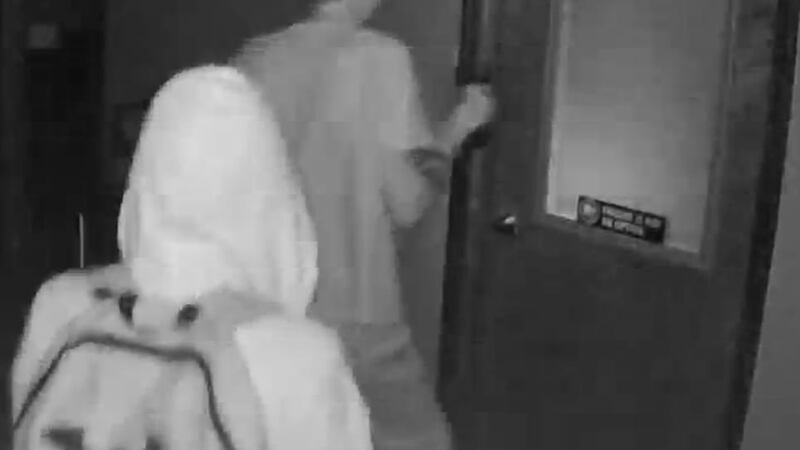 Published: Sep. 26, 2023 at 12:33 PM EDT
PERRY, FLa. (WCTV) - The Perry Police Department is currently seeking the public's help in solving a string of burglaries that were committed to businesses in the city limits over the past two weeks, according to the police department.
The burglaries were committed from downtown Perry down to South Jefferson Street, according to Perry PD.
"The majority of these are related, and we have leads that we are following on, however not all the burglaries are connected," Perry PD says.
Screenshots from security video footage taken from one of the buildings that were victimized showed two young white male suspects entering several offices in a downtown building, according to the police department. One suspect was seen wearing a hoodie and a backpack with a logo on the back, while the other suspect was seen wearing a baseball cap and has tattoos on his right hand, according to the police department.
Perry PD says they are encouraging all of their businesses to secure all windows and doors on their property, and to check their security cameras to make sure they are functional and upgrade, if necessary.
"Every little bit of evidence can help us solve these burglaries, and prevent further theft of our citizens' property," Perry PD says.
Anyone with information regarding the burglaries or that could lead to identifying the suspects are encouraged to call Perry Police Department at 850-584-5121 and ask for a detective.
The string of burglaries come in the wake of Hurricane Idalia and the Foley Cellulose mill closure.
To stay up to date on all the latest news as it develops, follow WCTV on Facebook and X (Twitter).
Have a news tip or see an error that needs correction? Write us here. Please include the article's headline in your message.
Keep up with all the biggest headlines on the WCTV News app. Click here to download it now.
Copyright 2023 WCTV. All rights reserved.