One person dead after an early evening crash on I-10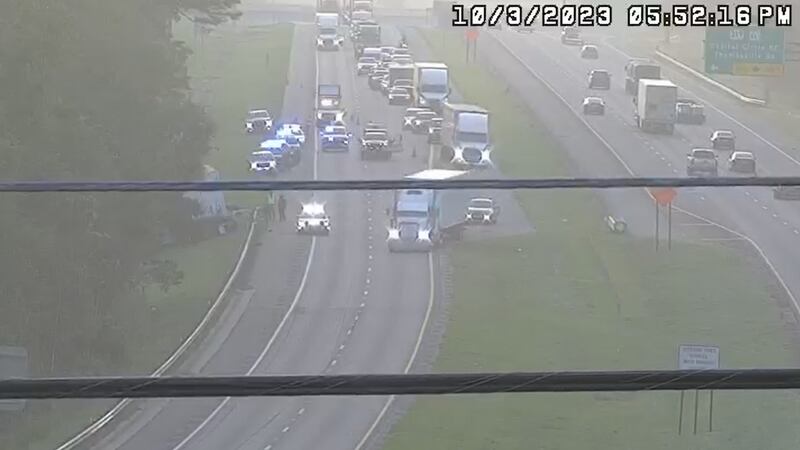 Published: Oct. 3, 2023 at 7:05 PM EDT
|
Updated: Oct. 3, 2023 at 11:58 PM EDT
TALLAHASSEE, Fla. (WCTV) - One person is dead and another injured after a crash early Tuesday night on Interstate 10 East near Olson Road.
Troopers with the Florida Highway Patrol and deputies with the Leon County Sheriffs Office said the crash, between a pickup truck pulling a box trailer and semi, happened around 5:30 p.m.
In a press release late Tuesday night, FHP said the semi was traveling on I-10 eastbound in the area of mile marker 203. The pickup truck pulling a box trailer was also traveling eastbound in front of the semi.
FHP said for unknown reasons, the semi crashed into the pickup truck. Both vehicles left the road onto the south grass shoulder.
The semi came to rest on the south grass shoulder facing south and the trailer parallel with I-10.
FHP said the pickup truck came to rest just in the wood line on the south shoulder of I-10 facing east with the box trailer detached and overturned on the south shoulder.
Both people were thrown from the semi.
The passenger, a man, died at the scene. FHP said the driver, a 53-year old man from Jackson, GA was taken to Tallahassee Memorial Hospital with critical injuries.
FHP said both the driver and passenger were not wearing seatbelts at the time of the crash.
At this time, the men's names have not been released and the cause of the crash remains under investigation.
This is a developing story. Stay with WCTV as we continue to learn more information.
To stay up to date on all the latest news as it develops, follow WCTV on Facebook and X (Twitter).
Have a news tip or see an error that needs correction? Write us here. Please include the article's headline in your message.
Keep up with all the biggest headlines on the WCTV News app. Click here to download it now.
Copyright 2023 WCTV. All rights reserved.