Firefighters unite for fair pay and better working conditions
Updated: Nov. 14, 2023 at 7:00 PM EST
TALLAHASSEE, Fla. (WCTV) - The union is asking for higher pay and more affordable benefits. The Tallahassee Professional Firefighters Association is gaining statewide support as firefighters around the state will be rallying with them on Wednesday, November 15.
Tallahassee Professional Firefighters Vice President, David Morrison, said the union has been in negotiation with the city since March. Since then, they've had sixteen sessions, according to Morrison.
The negotiations were expected to be complete by October 1, which is when the new contracts were supposed to go into effect.
"Our firefighters currently don't feel appreciated. To be perfectly honest, one of the firefighters on my crew just submitted his resignation yesterday because in his words he doesn't feel like the risk is worth the reward," the union vice president said.
According to Morrison, the previous contract ended in September. He said union firefighters are currently working under an expired contract because no agreement has been reached with the city.
Morrison said each proposal made by the union has been based on data which compares pay to other fire departments across the state of Florida.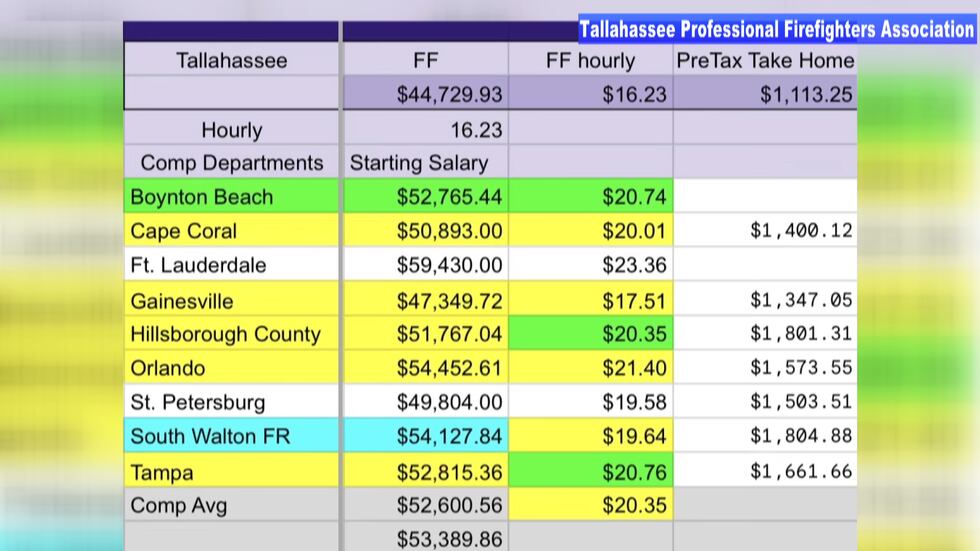 The Deputy Fire Chief, Richard Jones, said the city has made a proposal that includes higher pay and pension reduction. He said it's now up to the union to take the current proposal to its members for a vote.
"We here at the city, we want to come up with the best contract for our employees. We want to see our firefighters get a salary increase and pension reduction and we'll continue to work towards that goal with them," said Deputy Chief Jones.
The next bargain session is tentatively set for November 30.
To stay up to date on all the latest news as it develops, follow WCTV on Facebook and X (Twitter).
Have a news tip or see an error that needs correction? Write us here. Please include the article's headline in your message.
Keep up with all the biggest headlines on the WCTV News app. Click here to download it now.
Copyright 2023 WCTV. All rights reserved.