Tire blowout launches semi into I-10 treeline, causes traffic delays
The left lane westbound on the interstate near mile marker 168 in Gadsden County is blocked, FHP said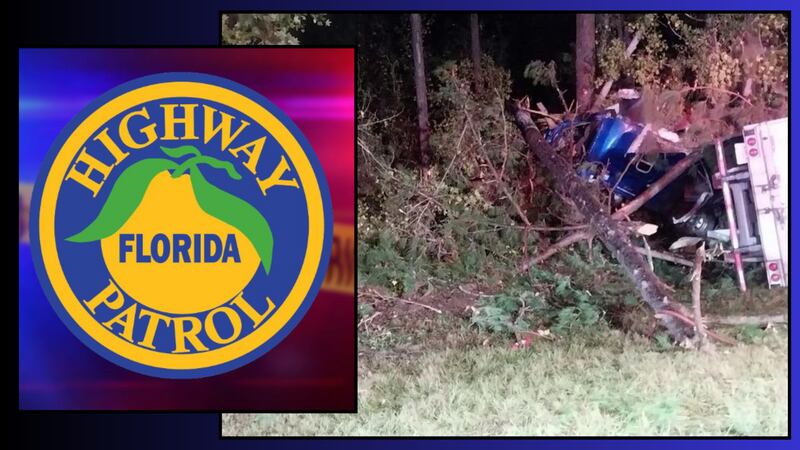 Published: Nov. 14, 2023 at 11:03 PM EST
|
Updated: Nov. 15, 2023 at 6:01 PM EST
GADSDEN COUNTY, Fla. (WCTV) - Traffic backed up on Interstate 10 in Gadsden County Tuesday evening after a semi-truck crashed into the roadway's treeline.
The wreck took place just before 6 p.m. in Chattahoochee. A tire blew out on a semi-truck traveling westbound, causing the 18-wheeler to veer off the road and collide into the woods, according to Florida Highway Patrol. The hauler's load toppled onto the shoulder in the wreck, FHP Master Corporal Patricia Jefferson-Shaw said.
The Chattahoochee Fire Department responded to the scene near mile marker 186, cutting through toppled trees to free the 36-year-old Kentucky man from the helm of the truck. Emergency responders transported the driver to Tallahassee Memorial Hospital, and officials expect him to survive, Jefferson-Shaw said.
The crash toppled trees onto the truck and roadway, according to FHP, with at least one blocking the left lane on I-10 westbound. Emergency vehicles may also be in the left lane as they work to clear debris, she advised.
The state patrol advised drivers to proceed cautiously in the area. Traffic was rerouted to the right lane and shoulder as responders handled the scene until just after 2 a.m. Wednesday, Jefferson-Shaw said.
FHP was assisted by Gadsden County Fire and EMS.
To stay up to date on all the latest news as it develops, follow WCTV on Facebook and X (Twitter).
Have a news tip or see an error that needs correction? Write us here. Please include the article's headline in your message.
Keep up with all the biggest headlines on the WCTV News app. Click here to download it now.
Copyright 2023 WCTV. All rights reserved.