Keiser University shares two dessert options for Thanksgiving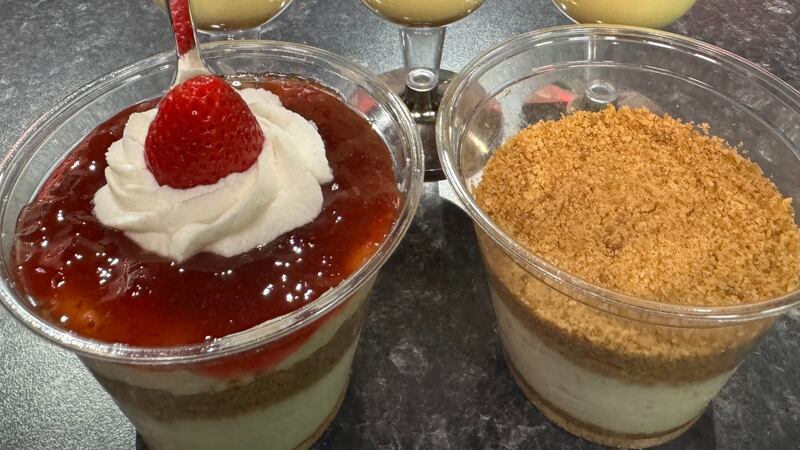 Published: Nov. 16, 2023 at 8:32 AM EST
TALLAHASSEE, Fla. (WCTV) - We're continuing to get into the holiday spirit, Chef Davey Crockett, instructor of Culinary Arts at Keiser University, stopped by the WCTV studio for part two of our three-part series featuring different menu options for Thanksgiving.
He joined Lanetra Bennett, Rob Nucatola and Madison Glaser in our kitchen to show everyone how to make two delicious dessert recipes to help people get ready for the holiday. If you want to make these recipes we have them listed below:
Strawberries and Cream Layered Cheesecake Cups
Graham Cracker Crust Ingredients
1 cup graham crackers
Instructions
1. Place graham crackers in a food processor.
2. Blend until fine.
Strawberry Sauce Ingredients
1 cup fresh strawberries 1/3 cup sugar
1 tablespoon lemon juice
Instructions
1. In a medium saucepan, combine sliced strawberries, sugar and lemon juice.
2. Place over medium heat and bring to a boil, stirring occasionally.
3. Reduce heat and simmer for 20-23 minutes or until sauce is thickened, stirring occasionally. Remove from heat and cool to room temperature. The sauce will thicken over time while cooling
Cheesecake Filling and Topping
Filling Ingredients
1 8oz block of cream cheese
½ cup sugar
1 teaspoon vanilla
1 cup heavy whipping cream
Toppings
Fresh strawberries Whipped cream
Cheesecake Filling Instructions
1. In a large bowl, pour the whipped cream in and beat on high until stiff peaks form.
2. Scrape the whipped cream into a second bowl, then combine the cream cheese, sugar and vanilla and mix until completely smooth and creamy.
3. Gently fold the whipped cream into the cream cheese mixture and stir until completely combined and creamy.
Building the Cup Instructions
1. Start with the graham cracker mixture on the bottom. Layer with strawberry sauce then the cream cheese mixture. Repeat this step until glass is filled
2. Top with any other desired toppings; ex., fresh strawberries or whipped cream.
3. Enjoy!
Tiramisu Cups
1. ½ cup water
2. ½ cup sugar
3. 1 cup espresso coffee
4. 1½ cups heavy cream
5. ¼ cup powdered sugar
6. 2 teaspoons vanilla extract
7. 1 lb. mascarpone cheese, whipped to soften
8. 1 cup zabaglione, recipe follows
9. ½ lb. Italian ladyfingers
10. Cocoa powder for dusting
1. Combine water and sugar in a saucepan and bring to a simmer, stirring occasionally to dissolve sugar. Remove from heat, cool, and add coffee.
2. For the filling, whip heavy cream with powdered sugar and vanilla until soft peaks form.
3. Fold zabaglione into softened mascarpone then fold in the whipped cream.
4. To assemble, place a layer of the ladyfingers in the bottom of a shallow baking dish.
5. Sprinkle with half of the coffee syrup. Alternatively, dip the lady's finger into the coffee syrup.
6. Spread half of the mascarpone filling in an even layer on top of the ladyfingers.
7. Repeat with remaining ladyfingers, syrup, and filling. The filling should be the last layer on top of the dish. Using a spatula spread the top layer evenly to form a smooth surface.
8. Cover with plastic wrap and refrigerate for up to 24 hours before serving.
9. Before serving, place cocoa powder in a fine strainer and shake a light coating on the surface.
To stay up to date on all the latest news as it develops, follow WCTV on Facebook and X (Twitter).
Have a news tip or see an error that needs correction? Write us here. Please include the article's headline in your message.
Keep up with all the biggest headlines on the WCTV News app. Click here to download it now.
Copyright 2023 WCTV. All rights reserved.