Dozens of residents protest upcoming closure of sole Chattahoochee healthcare clinic
Patients learned this week that the HCA practice on High Street is set to close in less than a month
Published: Nov. 17, 2023 at 3:56 PM EST
|
Updated: Nov. 17, 2023 at 8:36 PM EST
CHATTAHOOCHEE, Fla. (WCTV) - HCA Florida announced this week it will be shutting down the only healthcare clinic in Chattahoochee, but dozens of residents are determined to prevent that closure.
In a letter to patients dated November 13, the clinic manager says the HCA Florida Capital Medical Group practice in Chattahoochee will close its doors on December 15. It is the only primary care provider in the city.
The practice aims to connect its patients with other affiliated providers in Tallahassee, according to a statement it sent to WCTV Friday.
"This decision was not made lightly, and we are committed to working with patients to transition their care to one of our primary care providers in Tallahassee," the HCA Florida Primary Care Chattahoochee location wrote in a statement.
But patients told WCTV they don't want to make the drive to Tallahassee to get essential care. Around 25 Chattahoochee residents showed up outside the High Street clinic Friday to support efforts to keep its doors open.
Read the full letter here: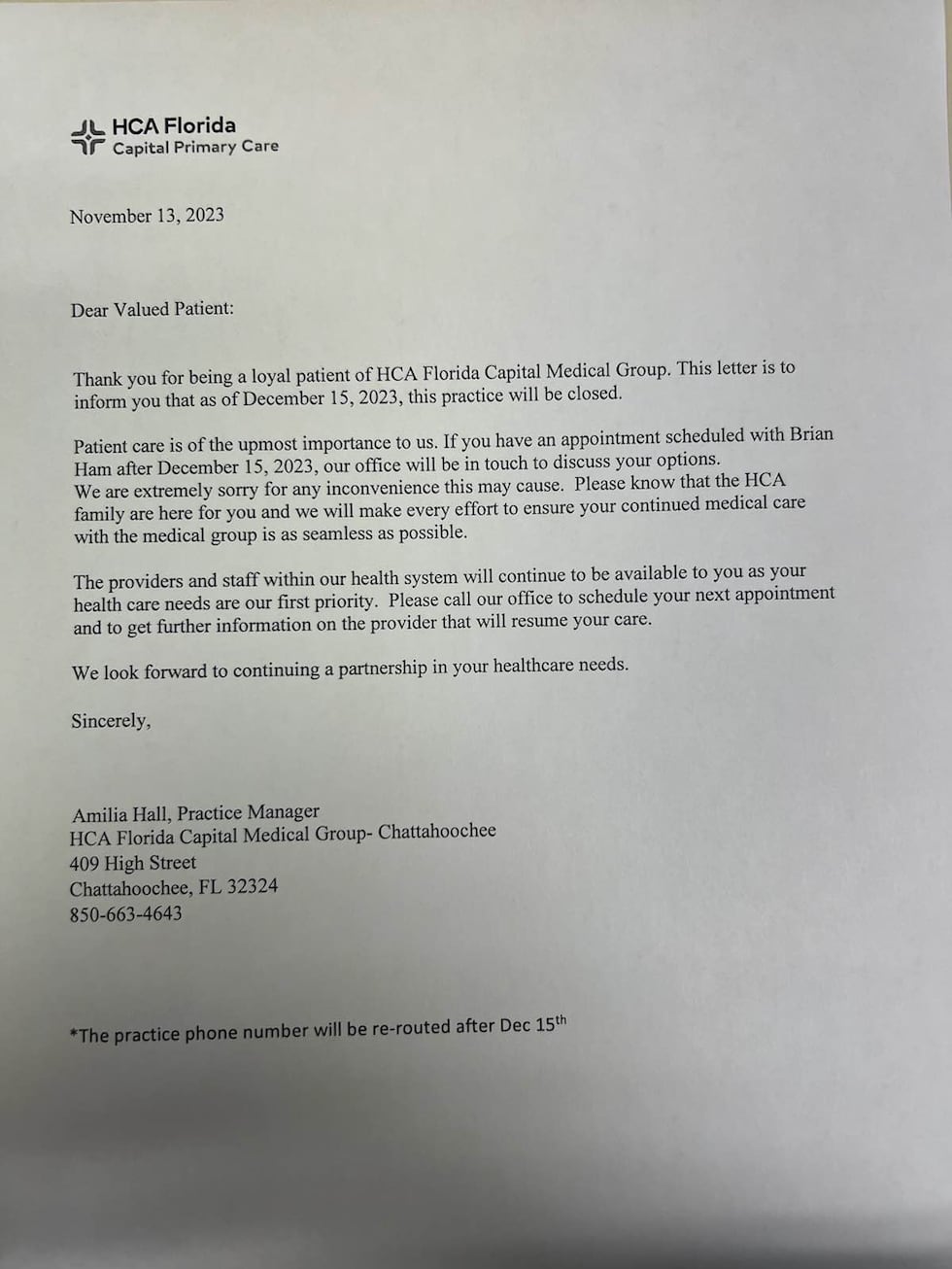 Local florist Cindy Glass said she has attended the practice at 409 High Street since she was in elementary school. She is leading a local movement to keep the clinic open.
Glass said the clinic just can't close. The area has a high population of older residents who have health concerns, and they need accessible medical care, Glass said.
"This is detrimental to our community," she said.
The lifelong Chattahoochee resident said local officials are reaching out to HCA to ask the clinic to reconsider, and many residents are also trying to prevent it from ceasing operations. Mayor Chris Moultry told WCTV he has tried to call the medical group to ask authorities to keep the doors open, but he has not been able to get in touch with anyone.
WCTV asked HCA Healthcare North Florida Division if another practice will open, what will happen to employees at the center and for a response to concerns from patients. The HCA Florida Primary Care Chattahoochee location said the group offered all five employees the option to transfer to "another affiliated practice," but it is unclear if they will be doing so.
"This week HCA Florida Capital Primary Care - Chattahoochee has begun the process of informing patients about the difficult decision to close our practice in Chattahoochee, Florida, effective December 15," the statement said. "We realize this is very challenging for our patients and our community."
Tune in to our evening shows to hear more from Moultry and Glass.
To stay up to date on all the latest news as it develops, follow WCTV on Facebook and X (Twitter).
Have a news tip or see an error that needs correction? Write us here. Please include the article's headline in your message.
Keep up with all the biggest headlines on the WCTV News app. Click here to download it now.
Copyright 2023 WCTV. All rights reserved.