Tracking the return of rain and a few storms early next week
Meteorologist Austin Lowe has the latest forecast
Published: Nov. 19, 2023 at 5:07 PM EST
|
Updated: Nov. 19, 2023 at 11:29 PM EST
TALLAHASSEE, Fla. (WCTV) - There is a lot to break down in the forecast over the next few days from storm chances to your holiday forecast. The next 24 hours are not bad - warm and sunny. Changes arrive in the forecast on Tuesday and Wednesday as wet weather returns to the area.
Weather Headlines:
Quiet start to the week
Rain & storms on Tuesday and Wednesday
Thanksgiving Questions?
This evening and tonight: Clear and cool, Morning Fog
A great evening to catch a coastal sunset or a backyard barbecue. Temperatures drop into the 60s after sunset, eventually bottoming out in the 50s overnight. Clear and calm skies. As moisture slowly increases, there will be some areas of patchy fog that develops.
Tomorrow: Sunny start to the week
More sunshine on tap for your Monday. The weather will cooperate if you have any outdoor plans or errands to run on Monday. It will be warm and a slight uptick in mugginess. High around 80.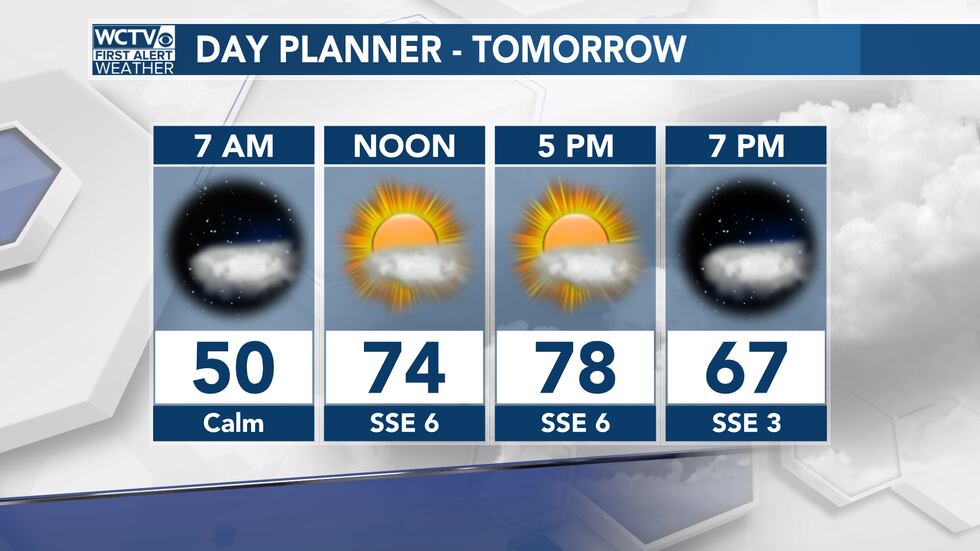 Tuesday: Muggy with PM rain/storms
I am not expecting much sunshine for your Tuesday as upstream thunderstorms approach the area. With limited sunshine, I expect instability (storm energy) will not be high enough for widespread severe storms. The Storm Prediction Center has a level 1/5 (marginal) risk for severe storms for the western Big Bend and panhandle and southern Alabama. This means one or two thunderstorms could tap into wind energy upstairs in the atmosphere and could bring damaging gusts or an isolated tornado. You will want to have the WCTV First Alert Weather App for alerts and radar.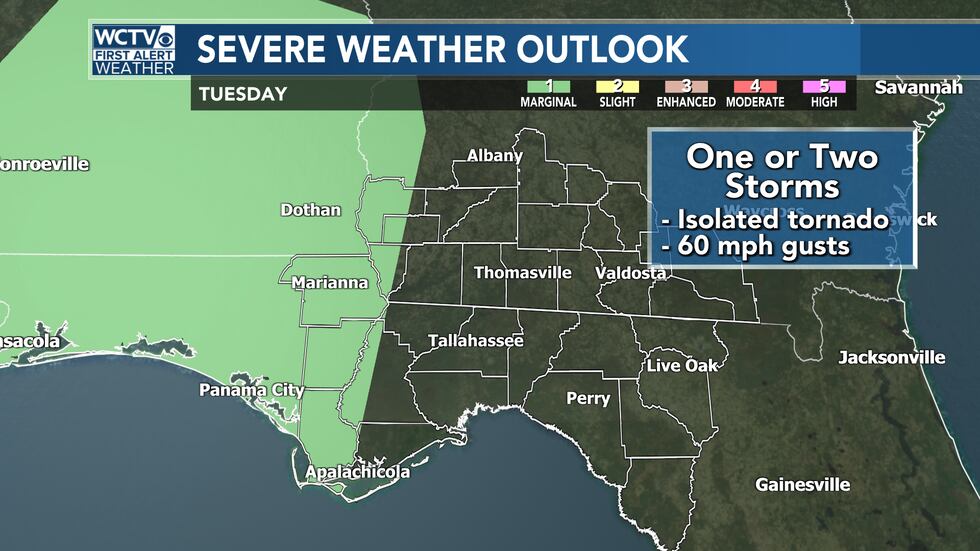 The best chance for showers and thunderstorms will be Tuesday afternoon ahead of a cold front and as some instability builds.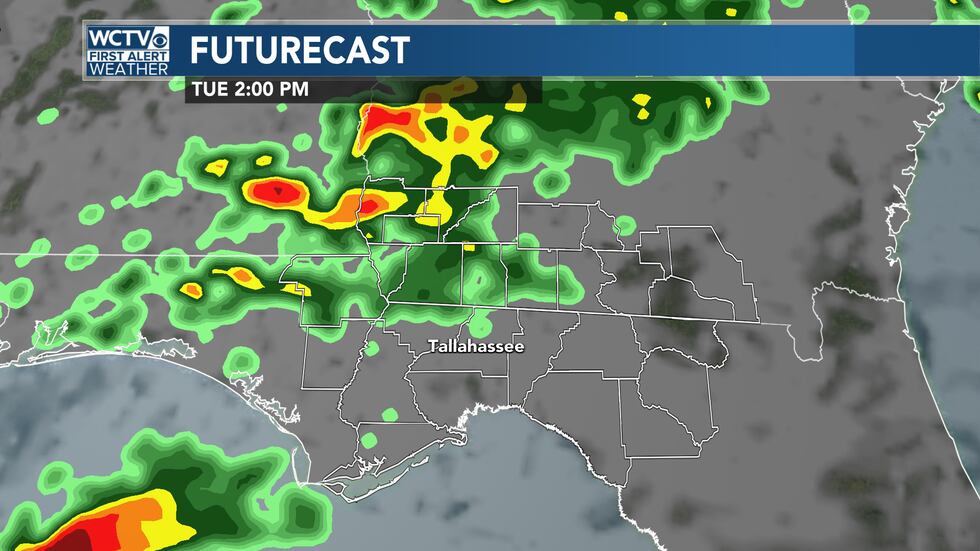 If we see sunshine, that could at least build up the instability a little bit more. Another way to increase instability is moisture. These will be trends I will be watching for over the next few days. Outside of clouds and storms or showers, temps will be in the 70s and feeling a little sticky.
Wednesday: AM showers, PM sun
It looks like showers may linger into your morning hours, but it looks like some drier air works in by the afternoon which should give us down afternoon sunshine. High in the upper 60s.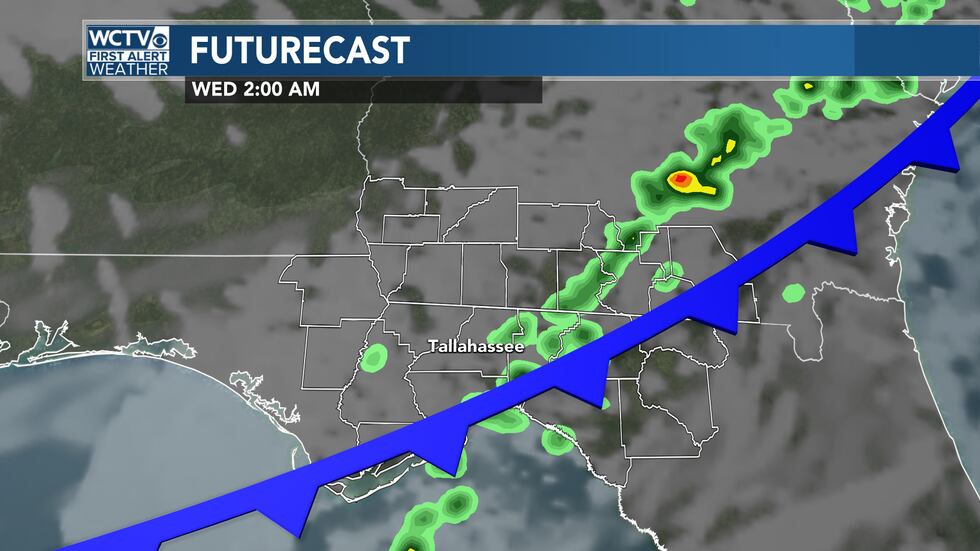 Thanksgiving: Cloudy and cool
The dry air does not last as another area of low pressure tries to develop in the Gulf of Mexico... this will NOT be tropical. I expect this to at least bring some cloudiness to the area on Turkey Day. If you have any outdoor plans, the first half of the day is looking dry. Some showers may try to sneak in by the evening or overnight hours. Hopefully, we're all inside stuffing our faces by this time.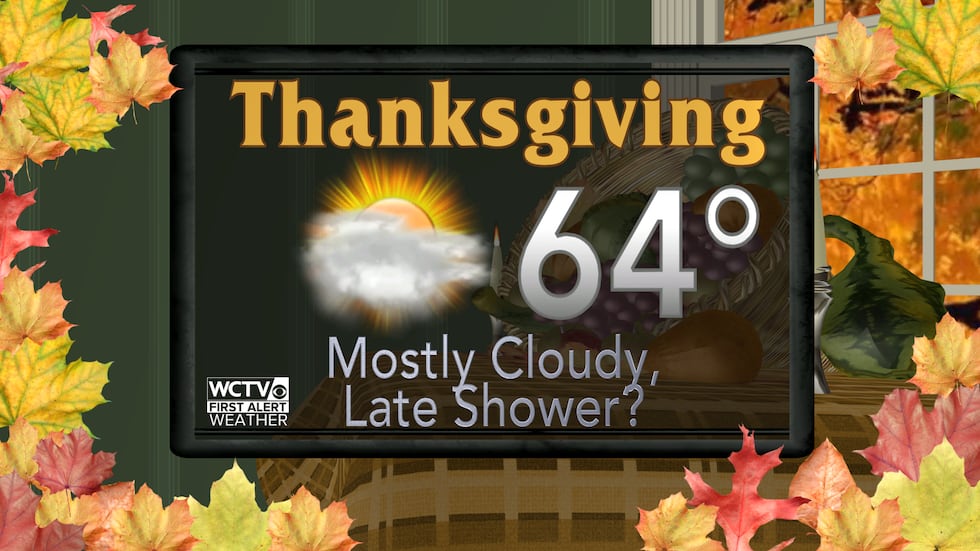 Black Friday: Another round of showers
Lingering showers around for your Black Friday shopping. You will want the rain gear for shopping out and about. Otherwise, a rather cloudy day. Dress for temperatures in the 60s
Tropics: Nice and quiet
The end of hurricane season is looming, but there is an area of thunderstorms that is being monitored for development in the southern Caribbean, right now the chance is very slim... so I do not anticipate we see anything named by the official end of hurricane season, which is November 30.
Weather History: Hurricane Kate
November 21, 1985, Hurricane Kate made landfall around Mexico Beach. Of course, Michael also made landfall around the same area.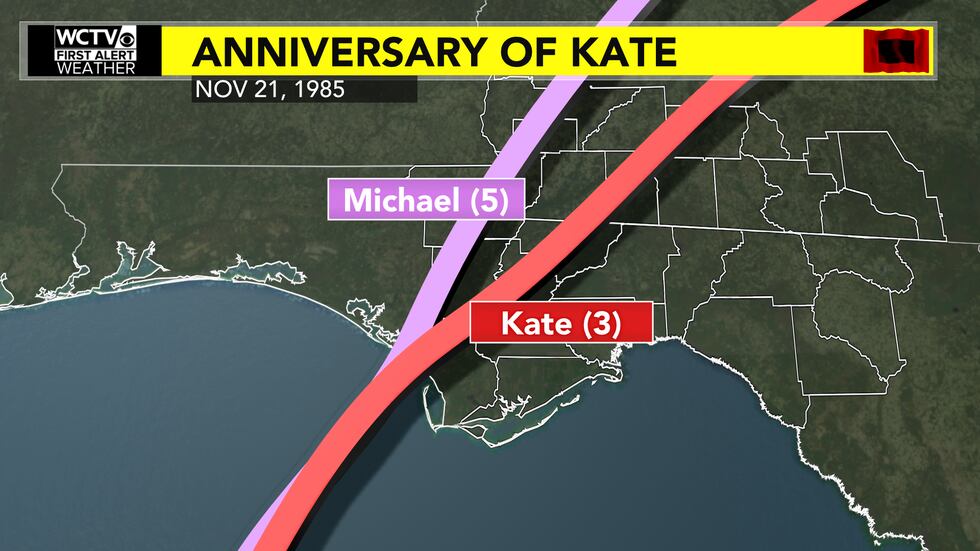 To stay up to date on all the latest news as it develops, follow WCTV on Facebook and X (Twitter).
Have a news tip or see an error that needs correction? Write us here. Please include the article's headline in your message.
Keep up with all the biggest headlines on the WCTV News app. Click here to download it now.
Copyright 2023 WCTV. All rights reserved.