Human remains found in St. Hebron area, Gadsden Co. deputies say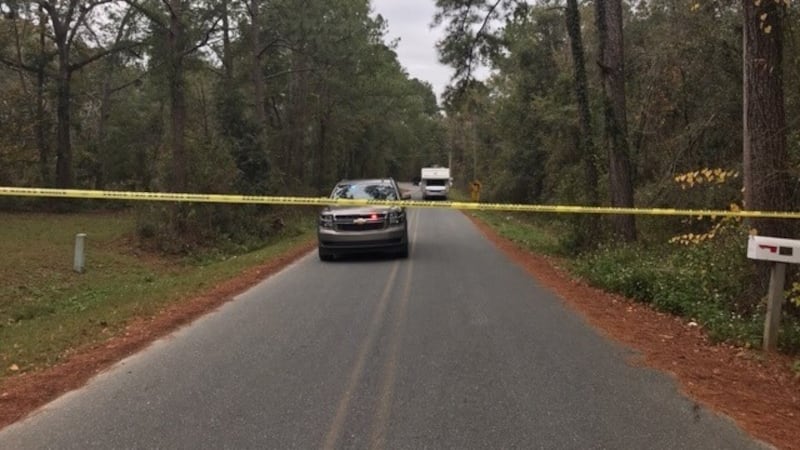 Published: Dec. 12, 2019 at 10:56 AM EST
By: Lanetra Bennett | WCTV Eyewitness News
December 12, 2019
GADSDEN COUNTY, Fla. (WCTV) — Human remains were found in Gadsden County.
The Gadsden County Sheriff's Office says two hunters found the remains just before 8:30 Thursday morning. They were in a wooded area off Robinson Drive in the St. Hebron community, near Quincy.
It's not far from the same area where 87-year-old Leroy Banks went missing back in October.
The identity of the remains have not been confirmed to be Banks.
"Confused. Numb. Helpless." Said, Pam, a Gadsden County resident who wants to go by only her first name.
She's going through emotions as she waits to hear if her uncle's body was found.
"If it is Uncle Leroy. The Lord has been good to this family this day because closure is what we need. It's what they need."
The word quickly spreading that remains were found in the St. Hebron community.
While authorities could not positively identify the person Thursday, it didn't stop Banks' family and friends from coming to the scene.
Area resident Pearlie Wilson was there waiting with relatives. She said, "If it was my family, I would want to know where he is, just to be able to put him away if he's really gone, so we can say okay, it's over, we're done now."
Pam says she'd been searching for Banks since that late October day he went missing. "I've been in these woods in and out of these woods every day. Was told not to go in these woods, but I'd go down there by myself because something kept telling me to go, go, go." She said.
FDLE is assisting in the investigation.
LT. Anglie Hightower with the Gadsden County Sheriff's Office said, "There are other examiners with anthropologists along with the bones and remains and they'll put it together. They will conclude what gender it was, the approximate age, and maybe cause of death at that time."
"Whoever it is, whether it's Uncle Leroy or not, they needed to be found." Pam said.
The investigation into this discovery is ongoing. Authorities can't say when they'll be able to make a positive I.D. or confirm a cause of death.
By: Lanetra Bennett | WCTV Eyewitness News
December 12, 2019
GADSDEN COUNTY, Fla. (WCTV) — The Gadsden County Sheriff's Office says it found what appears to be human remains in a wooded area of St. Hebron.
The sheriff's office says there has not been a positive ID yet. However, 87-year-old Leroy Banks
.
was at the scene Thursday afternoon.
The Florida Department of Law Enforcement is at the scene.
This incident is under investigation.
This is a developing story. WCTV has sent a reporter to the scene.
Copyright 2019 WCTV. All rights reserved.