Former FSU football All-American, Myron Rolle, matches at Harvard Medical School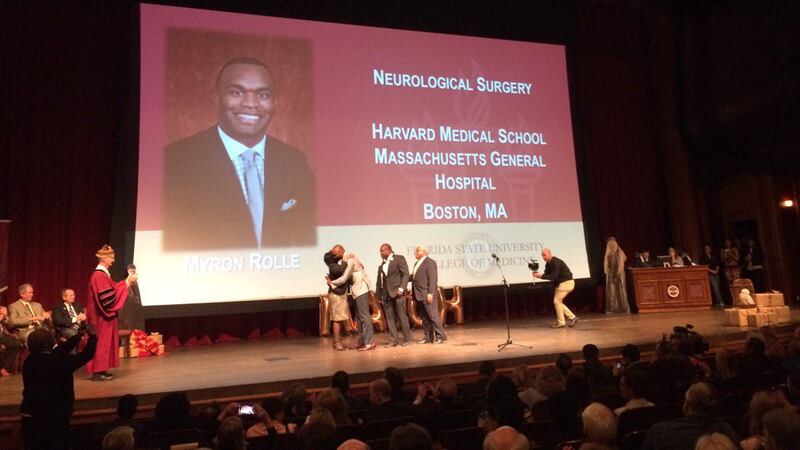 Published: Mar. 17, 2017 at 4:59 PM EDT
March 17, 2017
TALLAHASSEE, Fla. (WCTV) -- On Friday, thousands of medical students found out their residency assignments after opening that little white envelope.
In Tallahassee, one student took a different path to this day. Former Florida State football All-American and Rhodes Scholar, Myron Rolle, talked about this next chapter in life.
"Seven years of neurosurgery is a big deal, something I wanted for a long time, really excited about it. Today is just great, it's remarkable," Rolle said.
The game of football helped shape Rolle's life, but he says he always knew it wouldn't be his career. His dream was always to go into medicine, with neurosurgery being his passion.
"Saving lives and helping people live a better life, that's going to make life worth living," Rolle said.
On Friday, surrounded by friends and family, Myron opened the letter revealing his life for the next seven years will be spent at Harvard Medical School.
"I can remember years ago when I tell him, you cannot play football and be a doctor, and he told me, no daddy, you watch and see, I'm going to do both," Myron's father, Whitney Rolle, said.
It's an accomplishment that's not only for Myron, but his entire family.
"I know how hard he's work to get to where he's at and to see him happy and smile and pray and thank god, it's just a blessing," said Myron's older brother, McKinley Rolle.
While his football career might be over, Myron said he'll never forget how the game influenced him.
"It's added to my life now as a future physician, as a future resident at mass gen Harvard, it's going to add to my life as a father one day, it's already added to my life as a philanthropist and a leader," Myron said.
Rolle starts his residency at Harvard Medical School on July 1.