Hyperbaric Oxygen Chamber Therapy helps Tallahassee child recover from brain damage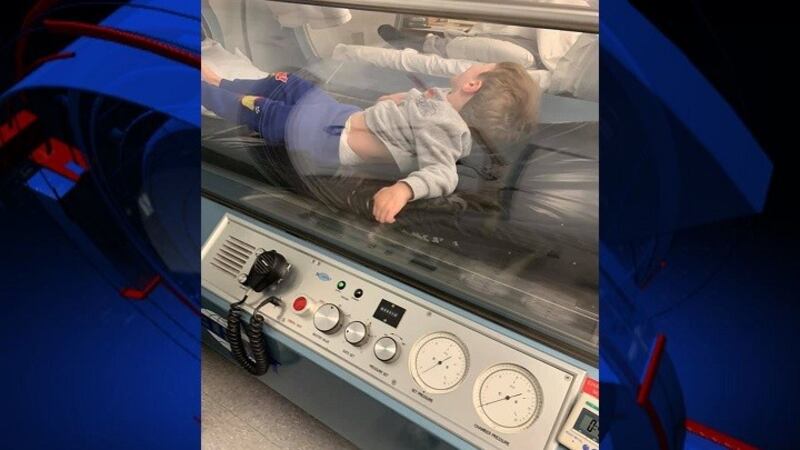 Published: Mar. 6, 2019 at 11:00 PM EST
By: Katie Kaplan | WCTV Eyewitness News
March 6, 2019
TALLAHASSEE, Fla. (WCTV) -- About one in five people who die from drowning are children aged 14 and younger. For every child who dies from drowning, another five receive emergency department care for non-fatal submersion injuries, according to the Centers for Disease Control and Prevention.
For one family in Tallahassee there is hope.
"He was above where he was supposed to be," said Cassandra Archey. "Very intelligent. Very outgoing."
Cassandra was talking about her son, Noah, who according to his grandmother, has always loved the water. However, life for Noah changed on July 11, when he nearly drowned while on vacation in Texas. His parents were not present.
"It was a pretty rough start. They didn't have very high hopes for him," Cassandra said. "They didn't think he would do anything. That he would be a vegetable."
Noah was reportedly without oxygen for about 10 minutes and, as a result, suffered a traumatic brain injury. He was left confined to a wheelchair with a feeding tube and seemed to be mentally "cloudy."
The family eventually learned of another situation that would be life changing. However, this time it would be for the better.
It was a type of gene treatment called 'Hyperbaric Oxygen Chamber Therapy.'
"It's helping him by treating the wounded areas in his brain," said Dr. Paul G. Harch, MD, who treated Noah.
Dr. Harch is the
and interviewed with WCTV from his home office in New Orleans via Skype.
"It works primarily by stimulating our genes to elaborate hormones, such as growth or repair hormones, inhibit inflammation, grow new tissue and stop cell damage," he said.
Dr. Harch said the treatment can help with a wound in any area of the the body, including the brain, and a wound of any age.
In 1997, he became well known in the industry after he worked with an 11-year-old patient that had been underwater for 15 minutes. Dr. Harch was able to get the child inside the chamber within 90 minutes of the drowning. Defying the odds of what emergency personnel initially believed, the child made a full recovery and returned to school the next month.
Cassandra said the family saved up for the treatment, which began on December 5 in New Orleans and lasted eight weeks. Cassandra said she saw a difference almost immediately. By the end of the treatment, there was a drastic change, she said.
"Within about three days he was trying to lift himself out of the wheelchair," she said. "When we first went, he was being fed through a G-tube, now he eats real food. He likes chicken nuggets."
Dr. Harch said Noah had a "laundry list" of improvements, which included gaining more control over his movements, walking with assistance, sleeping without melatonin supplements and signs of his old personality.
"It's been a complete turn around for Noah," she said.
Dr. Harch said it is unknown how much progress Noah will make. He has had varying degrees of success during his 32 years of experience with Hyperbaric medicine, with patients that are exposed to the chamber more quickly progressing the most.
"I don't know how many of these children will ever be normal, but it is a far cry from turning them off and letting them die," he said. "There's hope and where there's hope, there's the possibility of new treatments that could take them to higher levels."
Meanwhile, the Archey family is hoping to return to Louisiana for future treatments. However, the financial burden could be a barrier. The treatment costs about $8,000 without factoring in travel and lodging expenses. It is a two-month long process.
The family
for donations and a Facebook page where the community can follow along with Noah's progress. It is called 'Noah's Miraculous Journey' and
.