Local Trump supporters hoping to flip traditionally blue Leon County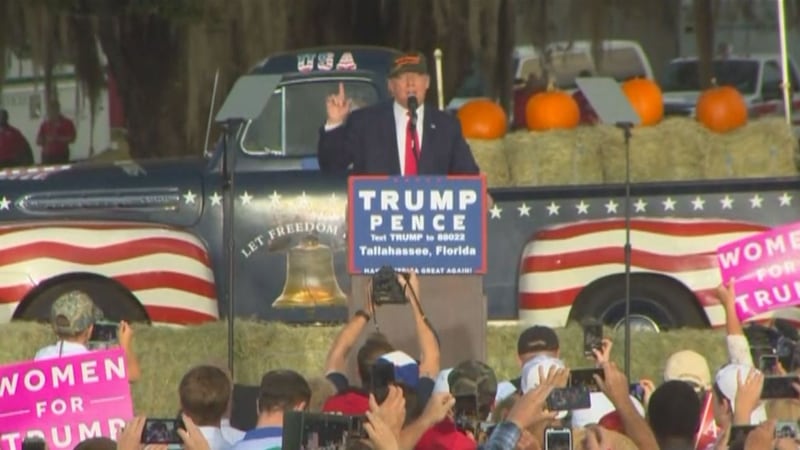 Published: Oct. 26, 2016 at 9:17 AM EDT
October 26, 2016
TALLAHASSEE, Fla. (WCTV) -- Republican presidential candidate Donald Trump took to the stage around 6:30 p.m. Tuesday and spoke for about 40 minutes.
His visit to Tallahassee concluded a trip across the state that included stops in Doral and Sandford.
Leon County, a county known to vote mostly blue, did not stop Trump supporters from coming out in droves to see Trump.
Enthusiasm for Trump was at a fever pitch as thousands watched Trump at the Tallahassee Automobile Museum. A much welcomed sight for those looking to make a change in Washington.
Local political figures Michelle Rehwinkel-Vasilinda and Attorney General Pam Bondi spoke before Trump's appearance.
Trump's speech hit on the points he's been focusing on throughout the duration of his campaign, including immigration, corruption in Washington, the Affordable Care Act, the economy and strengthening the military.
Trump urged the crowd of thousands to get to the polls as he promised to bring the country together.
Not everyone who came to hear Trump speak was able to, however.
Officials decided to shut the gates at one point, and for those who did make it in, it took quite some time.
One supporter told WCTV that it took him about an hour to get into the rally. Another felt that there should have been more people let in.
"If they would have let in everyone that was supposed to be let in, then there'd be a whole lot more people here," one person said.
Leon County has been blue for decades, but that didn't stop the crowd of voters hoping to flip the area.
In two days of early voting, over a million Floridians have already cast their ballot, something not lost on supporters in the crucial swing state.
The general election is November 8th.