Making Strides Moment: The Taxol/FSU Connection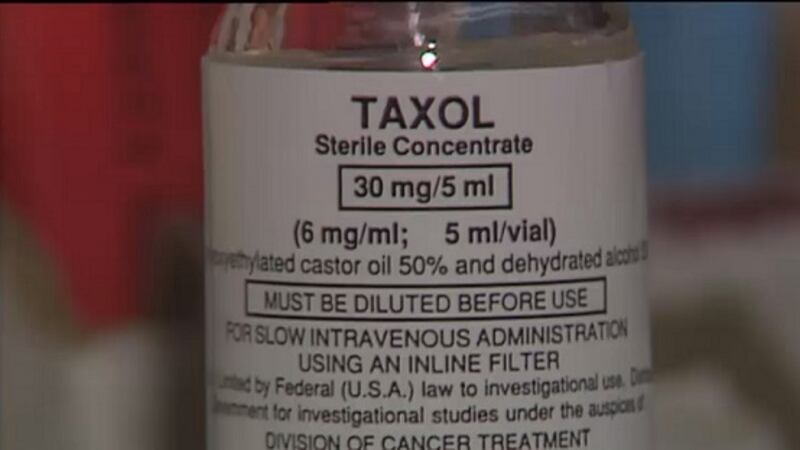 Published: Oct. 16, 2017 at 4:42 PM EDT
By: Abby Walton | WCTV Eyewitness News
October 16, 2017
TALLAHASSEE, Fla. (WCTV) -- If you ask most people what Florida State University is known for, their answer is probably football.
However asking that same question to those in the medical community gets you a very different answer.
To them, FSU is home to one of the largest cancer discoveries of all time.
Getting a medical drug from idea to patient can take years.
40 years, to be exact, in the case of the chemotherapy drug, Taxol.
But the reason it's called "Hope in an IV" is because of what happened in Tallahassee.
Getting chemotherapy is an intense process
"The biopsy was positive for invasive ductal carcinoma," Sonja Atkins said.
For Sonja, it means 12 weeks of sitting in a chair, prepping her port and leading up to the finale, an IV drip of Taxol.
"This drug is obviously going to change my life. And it's really cool to meet the guy who had a hand in it," Sonja said.
That guy is FSU synthetic chemistry professor Dr. Robert Holton.
"I have always gone for difficult problems," Dr. Holton said.
And in the chemistry world, Taxol is one of the most complicated.
"I remember turning the page and seeing the structure and saying I can't even believe that this exists," Dr. Holton said.
That's because it's partly made from the Pacific Yew tree. Its bark yields small amounts of the ingredient needed to make the drug.
Not environmentally or financially viable for a large-scale clinical trial.
"To get the thing on the market, you had to have an efficient way to put them together and that's where we went," Dr. Holton said.
A difficult problem looking for a solution.
"I was sitting in a seminar drawing pictures on the back of an envelope and what I drew there worked," Dr. Holton said.
That was in the early 1990's.
Dr. Holton and FSU then partnered with the pharmaceutical company, Bristol Meyer Squibb.
Together, they took Taxol from the lab bench to the bedside.
"Almost every breast cancer patient, who needs chemotherapy, will get Taxol during part of their care for cure," Dr. Karen Russell of Tallahassee Memorial Hospital said.
While Taxol's side effects are many, Dr. Russell said its ability to save lives makes it revolutionary.
"If you think about the 230,000 cases every year of breast cancer in our country. Of those who get chemotherapy, almost everyone is getting Taxol," Dr. Russell said.
At 73-years old, Dr. Holton is still working on Taxol with his research team.
"It's got built-in hidden resources, shall we say. My whole group has spent the last decade-plus doing nothing but exploring what that is and we get surprises every day," Dr. Holton said.
Surprises that may or may not lead to an even better drug.
That's something, Dr. Holton said, is the beauty of his work.
"I'm simply glad I had the opportunity. It's great to have a chance like that and actually see your product out there. It's just humbling actually," Dr. Holton said.
Knowing that by solving one of chemistry's biggest mysteries, he continues giving cancer patients, like Sonja, time in every bottle.
After more than three decades at FSU, Dr. Holton is retiring in May of 2018.
Currently, his staff is working to get his lab on the state registry of historic places to commemorate his incredible work.
As for the Taxol deal, Bristol Meyer Squibb and FSU ended their deal in 2009.
Those patents generated around $350,000,000 for the university.
This deal is still the most royalty income ever generated by a university licensed technology in the United States.
If you'd like to read the complete Taxol story,
.