More development plans laid out for Cascades Park area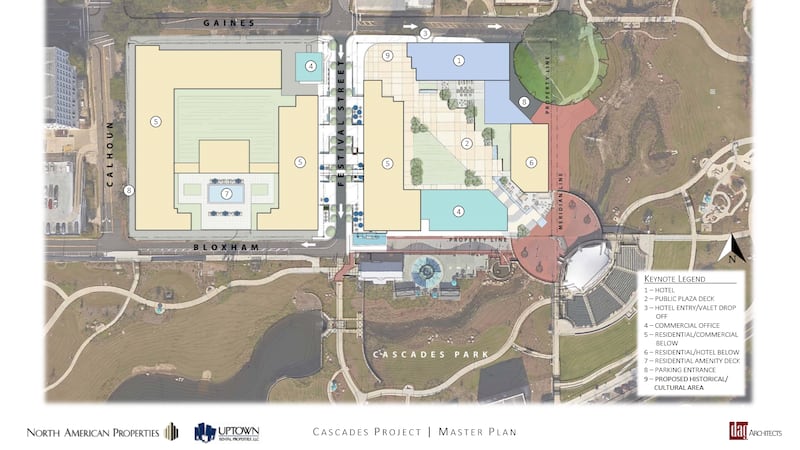 Published: May. 23, 2017 at 8:59 PM EDT
May 23, 2017
TALLAHASSEE, Fla. (WCTV) -- Plans are moving forward for new development near Cascades Park.
North American Properties have laid out mid-point plans for development of the old Firestone and Bloxham buildings. The City-County CRA agreed to sell the sites to the company for $4.28 million
back in March.
The site will be a mixed-use development, with a variety of inventory and both public and private spaces. Plans include a hotel, office space, retail and restaurants, apartments, a wellness center, public parking and a public plaza.
North American Properties developer Shawn McIntyre said the mix of both public and private spaces, as well as the variety of inventory set to be developed on the site is what helps create an "18-hour downtown" which the City is aiming to create.
"You can't just have one use, you have to have a mixed uses. So there will be restaurants, there will be a workout center, there will be apartments to live in, there will be a hotel, and there will be offices," said McIntyre. "And so really what that does is it creates a mixtures of uses that aren't just energized at one time during the day."
As far as preserving the historic buildings, the Firestone Building and the Bloxham Building will be torn down. However, the Bloxham Annex building, which served as the Leon County Health Unit and was one of the firsts to have interracial workers, will remain in its entirety.
To honor the history of the area, NAP is committed to building a public plaza, which will tell the story of the Civil Rights history, architectural history and health history. Plans are not yet finalized, however ideas put forth by the historical user group include creating an interactive display, the use of technology, and incorporating visual and vocal story telling.
Next month the historical user group will hold a public meeting on June 15, where it is looking to get stories and memories from the people who have lived the history of these buildings. That meeting is
set for 6 p.m. at Meridian Point Building.
McIntyre said the input thus far from residents and the historical user group has had a significant impact on plans.
"The stories that have been told… we know that those stories have to be retold into the city in a permanent way that can be accessible to everybody," he said.
McIntyre said the physical work on the property will begin in March 2018. It's expected to be complete by the end of 2020.