NWS surveys Hurricane Michael storm surge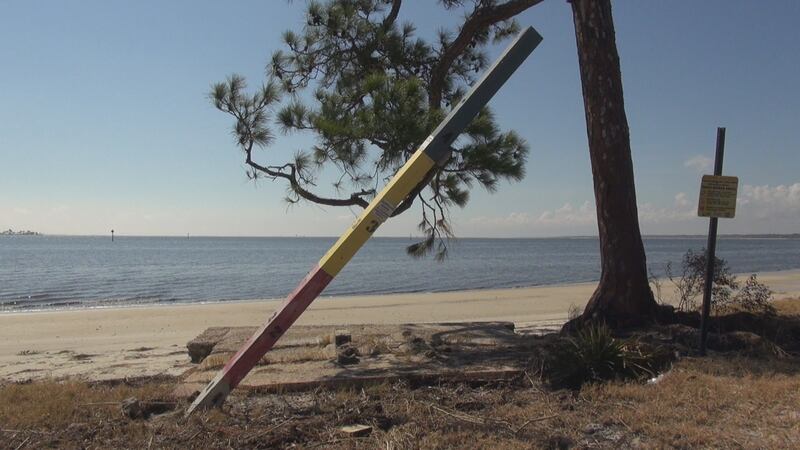 Published: Oct. 15, 2018 at 6:38 PM EDT
By: Brittany Bedi | WCTV Eyewitness News
October 15, 2018
FRANKLIN COUNTY, Fla. (WCTV) -- Piles of oyster shells, wood, patio furniture and even a refrigerator sit on the side of Highway 98 in Franklin County.
The debris was swept from Alligator Point across the Ochlockonee Bay and across the highway to the inland side of the road.
The National Weather Service in Tallahassee noted where the debris moved, while surveying damage. The group in Franklin County is one of four teams surveying damage along the coast and inland through Southwest Georgia.
Kelly Godsey is a meteorologist and service hydrologist for NWS Tallahassee. He and his team are primarily looking for high water lines. They use a laser level to measure the debris or water line to sea level.
"Down at the coast, we're seeing numbers that are very similar to what we were forecasting, in the 9-to-12 foot range," said Godsey. "We talk about above ground level right on the waterfront. As we move inland, some of the preliminary numbers that we've seen have been around 4 to 7 feet above ground."
The NWS is working with the U.S. Geological Survey, the State Emergency Response Team and other entities to gather hydrological data. It will take multiple days to gather all that data. Once all that information comes together, it will be formally released to the public. Any numbers gathered beforehand are still considered preliminary data and are subject to change.