Potential Tropical Cyclone Eighteen has developed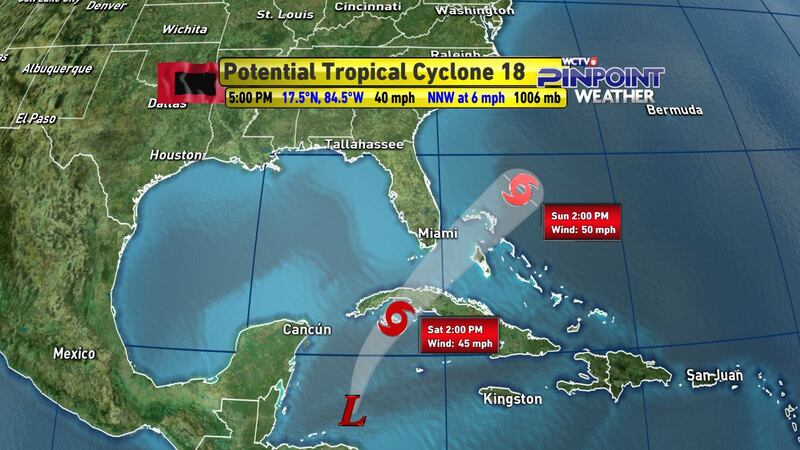 Published: Oct. 27, 2017 at 11:13 AM EDT
By: Charles Roop | WCTV Eyewitness News
October 27, 2017 - 5:30 pm
TALLAHASSEE, Fla. (WCTV) -- The low in the western Caribbean Sea that meteorologists have been monitoring for possible development is getting close to having a name.
Advisories have been issued for Potential Tropical Cyclone Eighteen, according to the National Hurricane Center.
Air Force Reserve Hurricane Hunter aircraft data determined the maximum sustained winds to be near 40 mph, with the strongest winds in the southern portion of the storm according to the NHC's discussion. Hunters did not find a single center of circulation but "since tropical storm conditions are expected to affect Cuba and the northwestern Bahamas in the next 24 to 36 hours, advisories are being initiated on the system as a potential tropical cyclone at this time," the NHC wrote.
The storm is expected to move northeastward to Cuba Saturday afternoon, then moving past the Bahamas by Sunday afternoon. The upper-level trough and surface cold front will help to move it northeastward, keeping it away from the Big Bend and South Georgia.
The low will help to bring heavy rain to South Florida, including the threat of flooding.
If the NHC declares it a tropical storm, it will be named Philippe.
By: Charles Roop | WCTV Eyewitness News
October 27, 2017
TALLAHASSEE, Fla. (WCTV) -- The trough of low pressure in the western Caribbean Sea was showing signs of some further organization Friday morning, leaving the National Hurricane Center to increase the odds of development.
The low, which is near the coast of Honduras in Central America, is showing signs of some "banding" on the northern and eastern sides, based on satellite imagery. Some concentration of convection was also noted by the NHC. An upper-level low remains to the west of the trough just south of Puerto Rico, while drier air from the cold front that passed earlier in the week still in place over the northern portions of Cuba and the Bahamas.
The NHC is giving odds of development at 60 percent (both in the next 48 hours and 2 to 5 days), but shear will begin to intensify as it moves northeastward. The added wind shear will lessen the odds of tropical development.
The low will get caught in an approaching upper-level trough and associated cold front, and move towards the northeast into the weekend. Regardless of any further development, the invest will have little impact on the Big Bend and South Georgia as the moisture and heavy rainfall will remain over South Florida.