Just over 100 customers without power Friday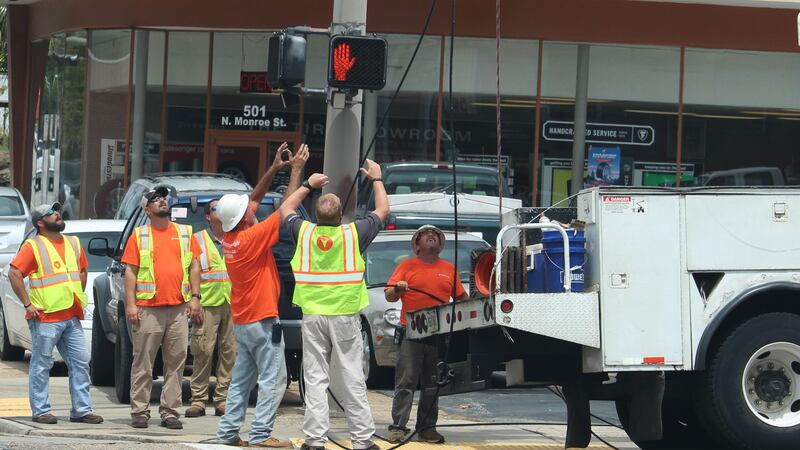 Published: Sep. 1, 2016 at 8:53 PM EDT
September 9, 2016
TALLAHASSEE, Fla. (WCTV) -- A week after Hurricane Hermine left over 100,000 customers without power in Leon County, just a few hundred remain in the dark.
According to the City of Tallahassee, just 126 customers remain without power as of 6:30 p.m. Friday. Talquin Electric, which serves a sizable portion of Leon County is reporting only 4 outages.
The city's outage map, which was covered with red dots, indicating outages, and virtually inaccessible online for days following the storm, now seems to show a red dot for each outage.
Several dozen of the outages seem to be clustered in the Indian Head Acres and Woodland Drives neighborhood, southeast of downtown Tallahassee.
Many of the other outages appear to be widespread, according to the city's map.
The City tweeted Friday morning that crews are now transitioning from larger outages to focus on single homes without power. Customers still without power are encouraged to contact the city.
Also on Friday, the City of Tallahassee, Leon County and State of Florida are beginning to include residential and business service as part of debris removal.
Local officials said earlier this week that residential and business debris removal should take about two weeks.
September 8, 2016
TALLAHASSEE, Fla. (WCTV) -- Toppled trees and downed power lines from Hurricane Hermine have left hundreds of people in the region still without power one week later.
Nearly all of those outages are now located in Tallahassee and Leon County.
Here are the latest outage numbers (by customers) across the region as of 11:30 p.m. Thursday:
City of Tallahassee:
<1,000 talquin: 5 duke: 0 suwannee valley: 0 tri-county: 0 florida power and light: 0 georgia power: 0 grady emc: 0
These numbers have been compiled from service providers' websites. The seven companies provide power for most of WCTV's DMA Market. The City of Tallahassee announced Wednesday that power has now been restored to 97 percent of its utilities customers and that hundreds of lineworkers are in the field working to completely restore power. For more information on the city's latest power restoration efforts, click here. To monitor power outages in your area, click the links below: City of Tallahassee Utilities Outage Map http://www.talgov.com/gis/outages/default.aspx. Talquin Electric Outage Map http://www.outageentry.com/dvOSM4/dvOSM4.php?Client=TALQ Duke Energy Outage Map http://outagemap.duke-energy.com/fl/default.html Suwannee Valley Electric Cooperative http://outages.svec-coop.com/ Tri-County Electric Cooperative http://outage.tcec.com/ Florida Power and Light http://maptest.fpl.com/ Georgia Power http://outagemap.georgiapower.com/external/default.html Grady Electric Membership Corporation http://www.gradyemc.com/Outage%20Information.html.
---
By: WCTV Eyewitness News September 2, 2016 TALLAHASSEE, Fla. (WCTV) -- Toppled trees and downed power lines have left nearly 130,000 people in the region without power. Here are the latest outage numbers (by customers) across the region as of Friday evening: City of Tallahassee: 67,565 Talquin: 33,890 Suwannee Valley: 12,242 Tri-County: 9,388 Duke: 1,485 Florida Power and Light: 1,608 Georgia Power: 1,700 Grady EMC: 1,294 These numbers have been compiled from service providers' websites. The seven companies provide power for most of WCTV's DMA Market. Tallahassee Mayor Andrew Gillum announced Friday, "We expect that it will take up to a week to get power restored to 90% of our customers. Talquin Electric is anticipating two weeks for full restoration." To monitor power outages in your area, click the links below: City of Tallahassee Utilities Outage Map http://www.talgov.com/gis/outages/default.aspx. Talquin Electric Outage Map http://www.outageentry.com/dvOSM4/dvOSM4.php?Client=TALQ Duke Energy Outage Map http://outagemap.duke-energy.com/fl/default.html Suwannee Valley Electric Cooperative http://outages.svec-coop.com/ Tri-County Electric Cooperative http://outage.tcec.com/ Florida Power and Light http://maptest.fpl.com/ Georgia Power http://outagemap.georgiapower.com/external/default.html Grady Electric Membership Corporation http://www.gradyemc.com/Outage%20Information.html. 1,000 talquin:>