Sheriff identifies gunman killed after firing at Florida pipeline site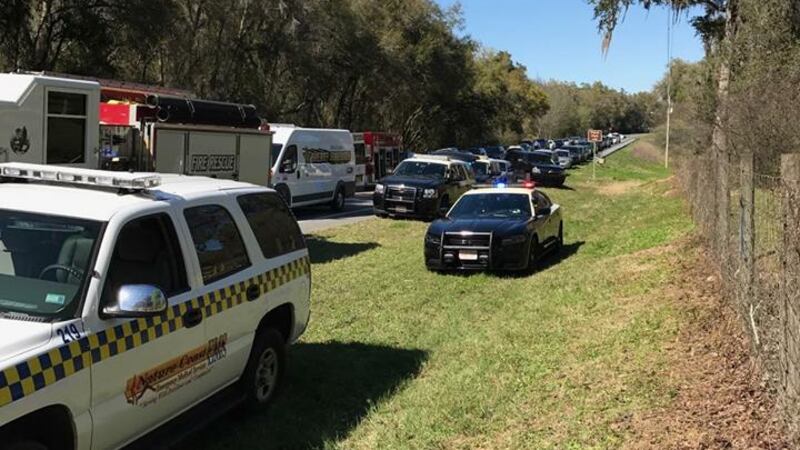 Published: Feb. 26, 2017 at 7:12 PM EST
February 27, 2017
FLORAL CITY, Fla. (AP) -- Police have identified a man who was fatally shot by officers after he was suspected of firing a gun at a pipeline construction site and fleeing.
The Citrus County Sheriff's Office said on its Facebook page that 66-year-old James Leroy Marker was killed on Sunday by officers after he shot and damaged a section of the Sabal Trail pipeline in north Florida.
The office says the pipeline, which will transport natural gas from Alabama to Florida, was damaged extensively.
Authorities say Marker fled after shooting the pipe and was eventually stopped by officers. The sheriff's office says he "engaged with law enforcement" before being fatally shot.
Three Citrus County deputies have been placed on administrative leave while a Florida Department of Law Enforcement investigates.
February 26, 2017
FLORAL CITY, Fla. (AP) -- A man who fired shots at a central Florida construction site died during a shootout with sheriff's deputies following a chase.
Citrus County Sheriff Mike Prendergast said in a statement the gunman fired shots from a high-powered rifle Sunday morning at equipment being used to construct the Sabal Trail pipeline, a natural gas line that will run from Alabama to Florida.
Deputies and the Florida Highway Patrol chased the man until he crashed near Floral City, 70 miles north of Tampa. Prendergast says the man got out and exchanged shots with deputies, who killed him. No deputies were hurt. Prendergast said other weapons were found in the car.
The man's name has not been released. The deputies were placed on leave pending an investigation.