Sports complex for athletes with disabilities set to break ground in Valdosta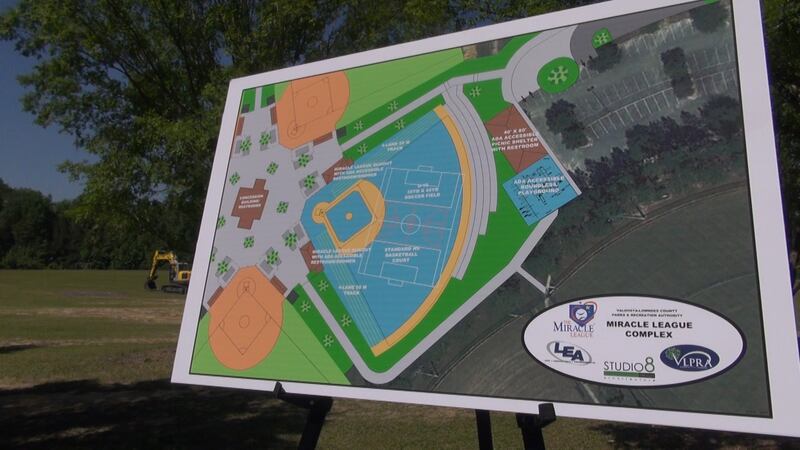 Published: May. 1, 2018 at 4:20 PM EDT
By: Emma Wheeler | WCTV Eyewitness News
May 1, 2018
VALDOSTA, Ga. (WCTV) -- On Tuesday, the Valdosta-Lowndes County Parks and Recreation Authority broke ground on a new baseball field unlike any other in South Georgia.
The field is designed for kids and adults with disabilities. Located in Freedom Park, the Miracle League Field is part of a five-field complex opening in time for next season.
The field's surface is rubberized, making it softer and easier for use with walkers or wheelchairs.
The complex will also have space for soccer and basketball. Organizers are adding a playground and handicap-accessible concessions and bathrooms.
The Miracle League is growing around the nation, but the city says this one is unique because it's built right alongside standard fields.
"You may have families with children with disabilities, and then other children that don't have disabilities. So the fact that those children have a place to come and play together, where everybody feels the same, where everybody has their moment, it's truly special," said Jessica Catlett, the Valdosta-Lowndes County Parks and Recreation Authority Marketing and PR Director.
"A way that other kids that play out there can understand that this is important, I need to enjoy the things that I have in life. That it's not all about winning and losing, it's about having fun and meeting friends and having a great time coming together," added Andy Gibbs, Miracle League of Valdosta founder.
The $5 million complex is expected to be completed by the end of the year.
The Miracle League of Valdosta is still raising money for the field. Donations can be made on the
.