Statue on FSU campus sparks heated debate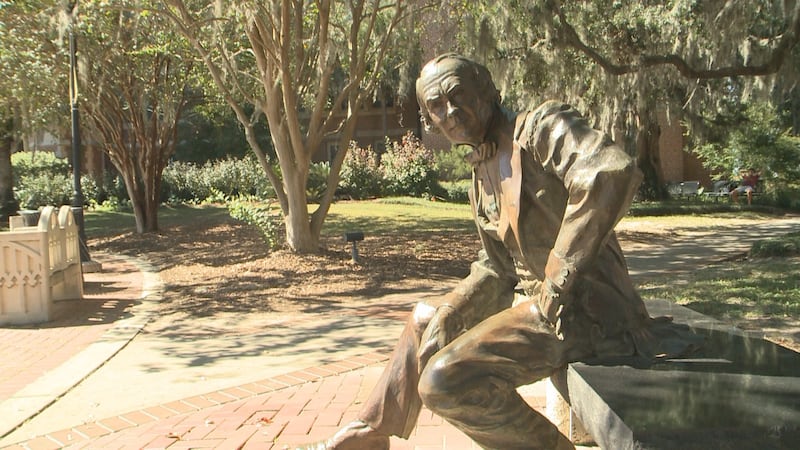 Published: Oct. 19, 2016 at 11:09 PM EDT
October 19, 2016
TALLAHASSEE, Fla. (WCTV) -- Florida State University students took a vote to decide the fate of a statue on campus that is sparking a heated debate.
Florida state students engaging in heated discussions, "You guys dwell on the fact that he had slaves but he did all of these other good things for the university."
The issue, removal of the statue and hall name in honor of FSU's founder, Francis Eppes.
One FSU student during voting day said, "It doesn't mean you have to get rid of it, it's like erasing history...you're erasing history by getting rid of it."
Another yelled back, "It's a statue!"
The first student replied, "But he is the history of FSU!"
Students for a Democratic Society wants to see Eppes, who was a slave owner, gone from the school out of respect for black students.
Students for a Democratic Society's Regina Joseph said, "They're not a part of a campus that so easily disregards their experiences and praises a slave owner."
Others, like Taylor Ney, say it's an attempt to make an issue out of a non-issue. "While we deplore slavery, we deplore the institution of it. He created the seminary west of the Suwannee and is really the reason we have a Florida State University in Tallahassee."
The final vote on Wednesday night recorded 71 percent of voters chose not to have the statue or renaming of the Hall.
Supporter of the removal, Kevin Jean-Pierre, said, "The fact that we lost this time doesn't mean that the same referendum won't happen in the future, because it definitely will."
An issue leaving them disappointed, but not defeated.
WCTV did reach out to President Thrasher's office since ultimately it's his and the Board of Trustees decision. President Thrasher's office declined to comment on the issue.