TFD firefighters return to Station 7 following concerns of mold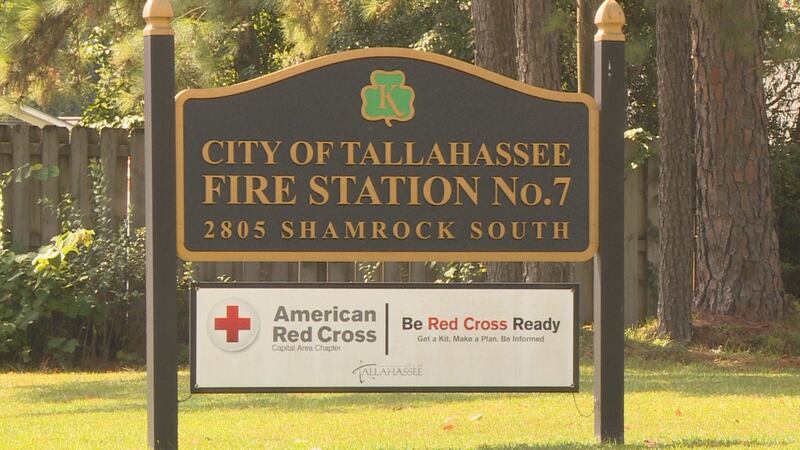 Published: Aug. 14, 2017 at 6:58 PM EDT
August 17, 2017
TALLAHASSEE, Fla. (WCTV)-- Tallahassee firefighters are back at Station 7 following a temporary relocation to Station 9 last week.
Employees were forced to leave the building on Shamrock following concerns of mold. Staff are now staying in temporary housing provided by the Leon County Sheriff's Office on site at Station 7 while crews work to remediate and clean.
The action comes after an employee brought up health concerns and mold growth at the building. Since then, at least nine employees have filed a "first report of injury or illness" with the City based on the concerns at Station 7. That is the first step in a potential workman's compensation claim.
"We're not going to disregard our employees. If that's a concern, we're going to look into it and address it" said Fire Chief Jerome Gaines.
A report done by Mihir Environics Inc. shows that the hallway outside the HVAC closet had high levels of mold spores in the air. However, the amount is not higher than the outdoor air. A conclusion reached by the report states, "higher spore counts in the hallway indicates suspect presence of mold contamination in the area above ceiling."
Recommendations were made including investigating the HVAC system and correcting the humidity problem which may be the reason for visible mold. And, investigating the above ceiling space in the hallway and other areas for possible mold contamination.
Gaines, acknowledged the issue and said they are working to make improvements.
"You know, these stations are old stations. We live in Florida which is a very humid climate. Mold is everywhere. It's outside," said Gaines.
"You can just consider it's all around you, it's on you," said John Hassler.
Hassler is an expert on mold and owns Indoor Environmental Management. The company provides a variety of services including
identifying and remediating mold in the home. He attributes mold growth to two things.
"It's either an active water leak in liquid state from storm water or plumbing. Or, relative humidity. And the way to protect yourself against unwanted mold growth and amplification is to control those factors or address them immediately if they become a problem," he said.
The City is now working to address the factors leading to the station's issue.
"We've contracted with experts that have extensive knowledge in this area," said John Powell, Environmental Services and Facilities Director for the City of Tallahassee.
Several improvements have since been made, including uncovering a fresh air intake vent, adjustments to temperature control settings and adding motion sensors to fans in the restrooms.
"The outside spore count is significantly higher than what we found inside. That doesn't mean we can't make improvements. Improvements that will not only benefit energy consumption, as well as the quality of the air inside the building," said Powell.
Chief Gaines said he feels satisfied that the appropriate actions are being taken.
"We can't address anything if we don't know about it. And we will continue to take a proactive position in everything we do and make sure not just the citizens, but the health and safety of our employees is number one," he said.
The City expects the work to take about two weeks. It maintains that there should be no delay in response time during that time.
By: Mariel Carbone | WCTV Eyewitness News
August 14, 2017
TALLAHASSEE, Fla. (WCTV) -- Tallahassee firefighters working at Fire Station 7 are being temporarily housed at Fire Station 9 following concerns of mold.
The City made the announcement last week in response to concerns brought up by employees working at the station on Shamrock. The City has said that the "necessary vendors are being brought in to investigate and correct any issues that could be contributing factors."
The process is expected to take about two weeks. And, the City has said that response services in that area should not be affected by the temporary displacements.
"Employee safety is our number one concern, both in the field and at our stations," Fire Chief Jerome Gaines said. "We will continue to proactively address any issues brought to our attention to ensure a safe working environment."
Eyewitness News is still waiting to receive a hard copy report of the recent air quality testing done at Station 7 in wake of the concern. However, a spokesperson for the City has said that higher levels of mold spores were found in the air in a hallway at the building; that's compared to the rest of the building. However, the levels in that hallway were lower than outdoor levels.
The City has contracted with an outside company that will do remediation and work to identify the causes of any issues.
Still, nine employees have filed a "first report of injury or illness" with the City based on the concerns at Station 7. That is the first step in a potential workman's compensation claim.
"I know there are a number of firefighters there who feel they've been adversely impacted by exposure to copious amounts of mold inside the fire stations," said Geoff Bichler, an attorney from Orlando who is guiding some of the fighters through this process.
Bichler, Oliver, Longo and Fox law firm have represented numerous first responders. Most recently, the firm represented Indian River County, which had a number of fire stations infested with mold.
The recent concern over at Fire Station 7 is not the first time the issue of mold has been brought up at a Tallahassee fire station. Last year, an employee notified the department of mold at Fire Station 8.
That prompted an investigation of all 16 fire stations and training classrooms, resulting in a more than 100 page report compiled by Arcadis. It was completed in November of 2016.
Following that report, Tallahassee Fire Department Spokesman Mike Bellamy said there was no reason for concern.
In a statement provided to WCTV in January, Bellamy stated:
"A thorough independent review by an environmental services contractor was conducted at each station. It evaluated existing indoor air quality in the facilities. A plan was developed and the work to address the conditions was initiated several months ago," he said.
"In all stations, the air quality assessment confirmed the levels were not suggestive of indoor mold growth condition. Inspectors observed isolated areas that contained surface mold caused by moistures. This was immediately addressed and we do not believe caused any health risks," he continued
In the summary section of that November report, Fire Station 7 came back clean.
However, a table on airborne mold spore samples shows potentially conflicting information.
That table gives Fire Station 7 a "C" letter grade for its day room, corridor and back room/weight room. According to footnotes a "C" grade means "indoor airborne mold sample results appeared to have significant deviations in an array of mold spore types present when compared to the mold spore types present in the outdoor air sample. The concentrations measured appeared to be relatively elevated. These results may be suggestive of an indoor mold growth condition."
Bichler said the main concern right now is creating a safe work environment.
"The first and most significant issue is that it's not a safe work environment. It's clear that people should not be living and working in this type of an environment. So the major concern is the immediate health consequences and impact on the wellbeing of our firefighters," he said.
Under current law, the Workman's Compensation Act does not recognize mold as an accident or injury.
"The legal issues are really secondary to the primary objective which is clean up these stations, recognize the problem and get these folks out of harm's way," said Bichler. "It seems to me (the city is) beginning to recognize the magnitude of the problem… that's a good step, that's a positive step and we want to encourage them to continue in this direction."